Synopsis Summary for Episode 1 of KBS 2TV Korean Drama "Bridal Mask"
The farewell ceremony for patriot Lee Gong who contributed to Japanese annexation of Korea!
Lee Kang To of Jongro police department is guarding the funeral procession. Suddenly, a woman appears, and she runs away after throwing stone on the corpse. So Lee Kang To starts to chase after the fleeing woman.
Lee Kang To finally caught up with the woman who fled after performed disrespect action on the funeral ceremony which otherwise would be grandly held. And he discovers that the woman is Oh Mok Dan, the daughter of leader of independent fighters Dam Sa Ri, who was sentenced to death a month a go, but escaped from court with the help of bridal mask.
At the moment about to arrest the woman, the man in bridal mask riding on the horseback and brandishing iron flute in hand appears!!!
He outlasts the armed patrol, and pulls out a dagger and throws towards the mourners. Lastly, he left unknown mark キ on the coffin of Lee Gong.
Bridal mask put Oh Mok Dan on the horseback, and disappears like a gust of wind.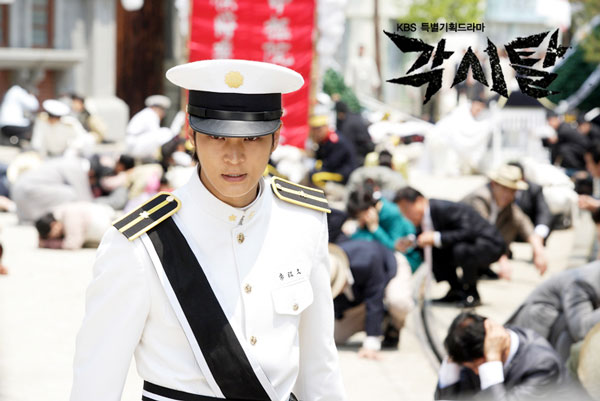 "Bridal Mask" Episode 1 Video Preview