KBS2 drama "Bridal Mask" has a goof scene which is provoking laughter.
In episode 3 of "Bridal Mask", in order to capture Bridal Mask, Lee Kang To (Joo Won) captures Mok Dan (Jin Se Yun) to torture and interrogate, and penalizes her openly.
After Bridal Mask saw the Mok Dan who is covered with blood, he appears to rescue Mok Dan, and places her in Namsan before leaving. Mok Dan who is covered with blood manages to find Namsan Primary School with efforts, and seeks help from Kimura Shunji (Park Ki Woong). Shunji brings Mok Dan home, and encounters Lee Kang To at home. In critical situation, he lets Mok Dan hide in the closet.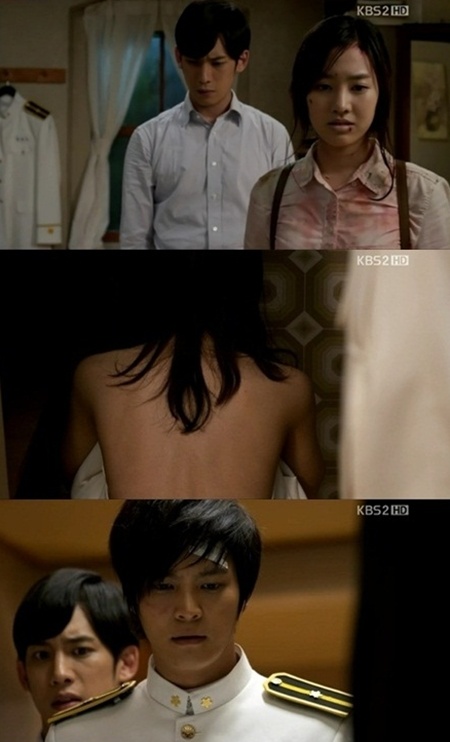 Lee Kang To saw Shunji has been standing next to the closet, refusing to leave, and asks puzzlingly, "Is there a woman inside the closet?" And he suddenly opens the door of the closet. In the moment of crisis, Lee Kang To saw the bare back of Mok Dan who stripped off the clothes. He mistakenly thought that she is the lover hidden by Shunji, laughs and shuts the closet. However, the audience is not convinced at the scene.
Mok Dan was tortured and was covered in blood, but why her back is as smooth as ever like applying with a skin care oil. Like an actress shooting star pictorials, the skin is fair, without slightest injury.
Viewers questioned, "Why there is no trace left when covered in blood after torture?" "Where got such thing? Very funny," "Hope producer can pay more attention," and so on, the response was overwhelming.
via Ilgan Sports