SBS drama series "Fashion King" releases the 6th original sound track (OST) on May 15th, 2012.
Fashion King OST part 6 has the song title of "Can't I" (안되는가요). The name of the song is also been translated to "Shouldn't Go".
"Can't I" is sang by SoulStar (소울스타).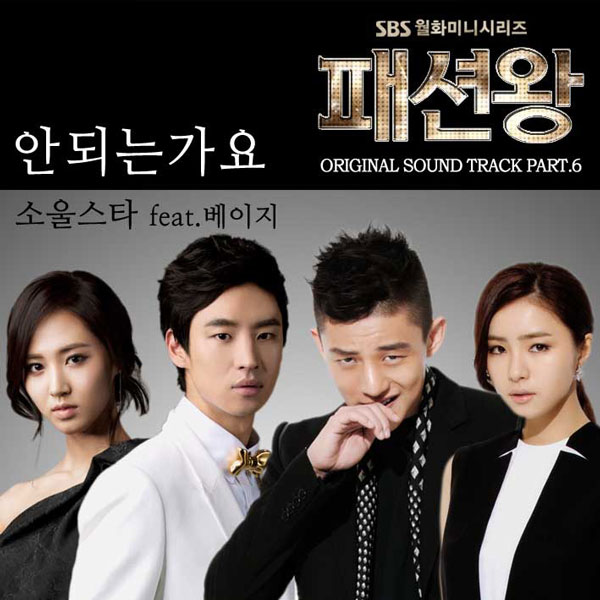 Fashion King (패션왕) OST Part 6 Track List
Can't I (안되는가요) – Soul Star
Can't I (안되는가요) – Instrumental
Listen to Can't I (안되는가요) at YouTube.
Can't I (안되는가요) Lyric
사랑이 또 나를 흔들고 눈물이 또 너를 그리고
기억은 지울 수가 없는 내게는 벌과 같아
또 하루가 너로 시작되고 오늘도 어제 같은데
안되는가요 내가 그댈 사랑하는 게
안되는가요 내가 그댈 바라보는 게
오늘도 난 늘 같은 얘기만 또 물어보고 있네요
안되는거죠 내가 그댈 미워하는게
안되는거죠 그댈 지워야만 하는게
내 심장이 늘 같은 얘기만 또 하고 있네요
안되는가요 내가 그댈 사랑하는 게
안되는가요 내가 그댈 바라보는 게
오늘도 난 늘 같은 얘기만 또 물어보고 있네요
안되는거죠 그대없이 살아가는게
안되는거죠 그대없이 꿈꾼다는게
내 심장이 늘 같은 얘기만 또 하고 있네요
어떻게 내 품을 떠나
너라는 사람은 거울속 나였는데
울고만 있죠 그댈 지울수가 없어서
울고만 있죠 우린 아무말도 못했죠
오늘도 난 또 같은 곳에서 널 기다리고 있네요
안되는거죠 그대없이 살아가는게
안되는거죠 그대없이 꿈꾼다는게
내 심장이 늘 같은 얘기만 또 하고 있네요
Can't I (안되는가요) Lyric Romanization
sarangi tto nareul heundeul-ko nun-mu-ri tto neoreul keurigo
giyeo-geun ji-ul suga eom-neun nae-ge-neun beol-kwah kata
tto haruga neoro shijakdwehko oneuldo eoje gateunde
andwehneunkayo nae-ga keudael sarang-haneun ge
andwehneunkayo nae-ga keudael paraboneun ge
oneuldo nan neul gateun yaegiman tto mu-reobogo i-nneyo
andwehneunkeojyo nae-ga keudael miwohaneunke
andwehneunkeojyo keudael jiwoyaman haneunke
nae shimjangi neul gateun yaegiman tto ha-go i-nneyo
andwehneunkayo nae-ga keudael sarang-haneun ge
andwehneunkayo nae-ga keudael paraboneun ge
oneuldo nan neul gateun yaegiman tto mu-reobogo i-nneyo
andwehneunkeojyo keudaeyeobshi sara-ganeunke
andwehneunkeojyo keudaeyeobshi kkumkkundaneunke
nae shimjangi neul gateun yaegiman tto ha-go i-nneyo
eotteohke nae pumeul tteona
neoraneun sarameun geoul-song nayeo-nneunde
ul-koman it-jyo keudael ji-ul-suga eop-seoseo
ul-koman it-jyo urin amumaldo mothaet-jyo
oneuldo nan tto gateun goseseo neol kidarigo i-nneyo
andwehneunkeojyo keudaeyeobshi sara-ganeunke
andwehneunkeojyo keudaeyeobshi kkumkkundaneunke
nae shimjangi neul gateun yaegiman tto ha-go i-nneyo
Can't I (안되는가요) Lyric English Translation
Love is shaking me again, tears are with you again
The ineffable memories are like a punishment to me
Another day begins with you, but today will be like yesterday
Can't I love you?
Can't I look at you?
As usual, I'm saying the same things, asking the same question again today
Why can't I hate you?
Why can't I forget you?
My heart is always saying the same thing
I can't love you
I can't look at you
As usual, I'm saying the same things, asking the same question again today
I can't go on living without you
I can't dream without you
My heart is always saying the same thing
How could you leave me?
You're another me in the mirror
I' crying because I can't forget you
I' crying because we couldn't say a word
Again today, I am waiting for you at the same place
I can't go on living without you
I can't dream without you
My heart is always saying the same thing