The MBC Wednesday and Thursday drama Can't Live with Losing (Can't Lose) which is currently airing in South Korea, is drawing intense discussion and argument, where the fans of male and female lead actors is engaging on heated war of words on official bulletin board. The fans on the side of Lee Eun Jae (played by Choi Ji Woo) or Yeon Hyung Woo (played by Yoon Sang Hyun) have their respective different reasons and point of views.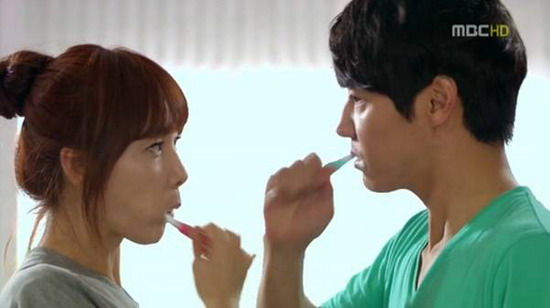 Before the drama starts airing, it has been anticipated that the drama will attract quite a fair share of controversy, but unexpectedly it turns out to be more serious that initially thought. The center of the controversy is who should take the blame and bear responsibility for the divorce proceeding of Eun Jae and Hyung Woo.
At first, many people complains about the sensitive and neurotic personality of Eun Jae that is getting more telling with the development of plot. But now the target of scolding is Hyung Woo who doesn't care about family finance, does not explain things in details, and only hope infinite understanding from his wife. Actually, both of the cases cannot clearly explain who is right or who is wrong, as the argument of fault is not clear cut, and both of them does have some fault that caused the misunderstanding.
In most drama, the divorce plot is straightforward, where it's usually caused by one of the couple having extramarital affair or committing unforgivable mistake, or discovered after marriage that it's hard to communicate with new relatives and other difficult problems. But the reason of divorce in Can't Live with Losing is something that easily saved with just a little effort. For example, misunderstand after marriage is something commonly encountered during daily life, and can be easily resolved.
Audience mostly thought of Hyung Woo as a good man and good husband even though he has lots of problems based on own experience and personality; and some people thinks that the drama does not properly portray the pressure faced and accumulated by Eun Jae in the family.
It's reported that the Can't Lose drama is going to open a more intense couple divorce battle, and whether the drama can get a good result in rating competition with Protect the Boss and The Princess' Man has became the focus of everybody's concern.
via bntnews