To rally the FTV and GTV's idol drama In Time with You, the casts of the In Time with You TV series were gifted with a red underwear in a recent victory celebration press conference held on September 26th, 2011.
Ariel Lin, Bo-Lin Chen, Sunny Wang, Andrea Chen and Zhou Dan Wei chose a red underwear which signifies good luck and fortune knock on the door. The red underwear was available in different style. Both male actors is too shy to be the first to choose, but ended up all the conservative style of underwear was taken, and as the result, Bo-Lin Chen had no choice but to take the G-string thong while Sunny Wang a lace panties. Sunny Wang also feels amused as there is no such practice to hold red underwear for good luck in other countries.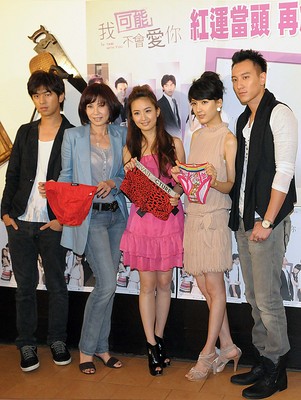 On the other hand, the female actresses were feeling at ease with holding the underwear. Ariel Lin even said that she is willing to wear the underwear to sleep in order for improved ratings.
When asked, Bo-Lin Chen confessed that he is also a caring guy in private. When he was in romantic relationship with Hong Kong model Mandy, she did not need to do houseworks, cooking, cleaning, and washing clothes, and fetching her, buying supper and sanitary napkin for girlfriend is the most basic he would do.
Bo-Lin Chen also revealed that he is obsessive with cleanliness, and wants to wash any dirty clothes he saw, will also hand-wash the inner-wear of girlfriend such as bras and panties. Hearing that, Sunny Wang and Ariel Lin also expressed that they're very obsessed with cleanliness too, where Ariel Lin cannot stand there is hairs on the floor.