Filming a kiss scene in the cool night, Roy Chiu Ze is relying on the lips of Alice Ke Jia Yan to warm himself.
In the TTV and SETTV Office Girls starring Roy Chiu and Alice Ke, they who only had some intimate actions of kissing in the cheek and touched forehead, eventually kissed mouth to mouth under great expectation of viewers. This is also the most intimate contact of them since the filming started.
In the drama, Shen Xing Ren is facing with dilemma of choice between career and love, undecided in heart, and at this time after listening to suggestion of friend, Zi Qi gets up the courage to confess to Xing Ren.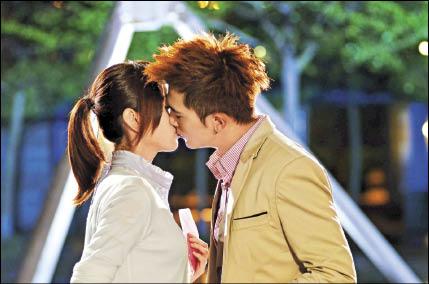 Alice Ke Jia Yan was taken it with usual mind, but Roy Chiu Ze was retracting the usual smiling and funny face, appearing to be much serious. Roy Chiu said, "Because it's a kiss scene, but has to be more serious."
On actual shooting, both of them exuded tenderness and love through eyes and had full understanding with each other, and the scene was filmed at one go. Alice Ke said, "Initially I was a little nervous, because we know each other well, about will NG, but unexpectedly during the shooting it's smooth." Roy Chiu said, "It felt good, and both of us is very into the drama, but because the weather was a little bit cold, so I felt her lips were especially warm."
The kiss scene was shot in the vicinity of Taipei 101. During the filming, it's drizzling and it added to the romantic atmosphere. Alice Ke smiled and said, "The plot is special, because Roy Chiu is using cauliflower to confess, it's different from common flower used by others, felt a bit foolish, but very cute." Roy Chiu laughed and said, "Feeling is slowly developed. In the drama, both of us start from ambiguous, comfort hug, kiss on cheek, forehead touch to this kiss, I believe the most couples in love may have such experience too, is very close to real life."
Talking about kiss scene, both of them did not have such a formal confession experience in reality. Alice Ke said, "When confessing, sincerity and heart is the most important, must be able to feel it in order to agree." Roy Chiu said, "In the past mostly was together after both had tacit understanding. In future I want to confess on the racing track, confessing when driving past the finishing line with speed of 200 km/h, then shout "want to be with me or not," this feels good!"