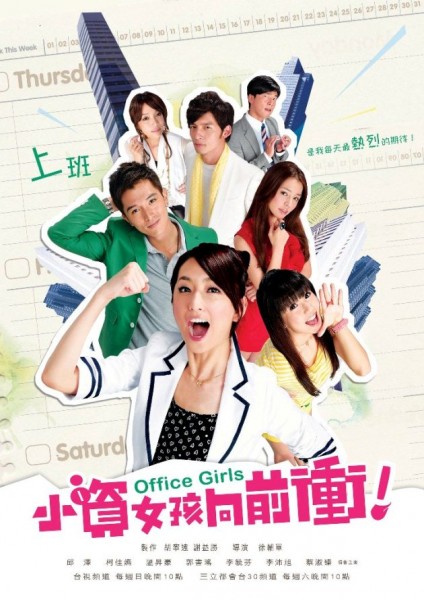 Drama Title: Office Girls
Also Known As: Xiao Zi Nu Hai Xiang Qian Chong
Chinese Title: 小資女孩向前衝 / 小资女孩向前冲
Genre: Romance
Language: Chinese
Episodes: –
Broadcast Place: Taiwan
Broadcast Network: TTV / SETTV
Broadcast Period: 21 August 2011 (TTV) and 27 August 2011 (SETTV)
Air Time: Sunday 22:00 – 23:30 on TTV and Saturday 22:00 – 24:00 on SETTV
Cast
Roy Chiu Ze / Qiu Ze (邱澤) as Qin Zi Qi (秦子奇)
Alice Ke (柯佳嬿) as Shen Xing Ren (沈杏仁)
Wen Sheng Hao (溫昇豪) as Yu Cheng Feng (余承風)
Tia Li Yu Fen (李毓芬) as Zheng Kai Er (鄭凱兒)
Janel Tsai (蔡淑臻) as Wei Min Na (衛敏娜)
Guo Shu Yao (郭書瑤) as Liu Yu Le /Le Le (劉禹樂 / 樂樂)
Patrick Li Pei Xu (李沛旭) as Shi Te Long / Stallone (史特龍)
Shen Meng Sheng (沈孟生) as Qin Mu Bai (秦慕白)
Lin Hsiu Chun (林秀君) as Ye Hua (葉華)
Luk Yat-Lung (陸一龍) as Tu Jin Quan (涂金泉)
Lang Zu Yun (郎祖筠) as Feng Ren Yue (封仁月)
David Zhao Zheng Ping (趙正平) as Hu Jian Zhong (胡建中)
Yan Jia Le (顏嘉樂) as Chu Xiang Lan (褚湘蘭)
Rim (林峻永 / 綠茶) as Rim / Lü Cha / Green Tea (綠茶)
Stephanie Chang Pei-ying / Xiao Ba (張珮瑩 / 小八) as Man Di (蔓蒂)
Luo Ping / Mirza Atif Ali Baig (羅平) as Mai Ke / Michael (麥可)
Yang Li-Yin (楊麗音) as Zhang Shu Fang (張淑芳)
Michael Zhang (張勛傑) as Jie Ke / Jack (傑克) – Cameo appearance
Cheung Yung (戎祥) as あにき
Office Girls Characters Description
Production Credits
Screenplay: Luo Cai Yu (罗彩渝), Luo Li Li (罗立丽), Fang Yi De (方懿德)
Director: Xu Fu Jun (徐辅军)
Plot Summary
Shen Xing Ren is a marketing specialist for Jing Shi Departmental Store, who has just saved her first TWD $1,000,000 for downpayment of house ! Her aim is to buy a house, so she works hard to achieve her ambition.
Qin Zi Qi is a MBA graduate who has everything spoon-fed to him because he is the future successor of Jing Shi Department Store. However, his father worries that he will not make a good manager and decides to train him by having him work as an entry-level employee for a year. During the year he has to live on his own salary, and must comply to several rules, or he will have to renounce his succession right.
Qin could not have survived the year has it not been for Shen Xing Reng's office survival guide. Together, Shen and Qin accomplish the impossible, which is to shine on the bottom of the office pyramid.
Synopsis
Sheng Xin Ren is 25 years old this year, and is a low-level staff in sales department of Jing Shi Departmental Store, and has worked nearly 4 years.
Qin Zi Qi, 28, is son of a wealthy family who just graduated from MBA in USA and returns to Taiwan. Her father Qin Mu Bai is the chairman of Jing Shi Department Store, and his mother is pampering him, the only son of the family. The unique conditions created Zi Qi personality which acts in his own way and overweening personality.
Zi Qi initially thought after his study, his father will give him the right to operate the Jing Shi Department Store. However, Mu Bai tells Zi Qi if he wants to take over the company, he must passes the test to work as low level staff in the sales department for 1 year, and obey the 5 rules:
Cannot expose the identity
Cannot been demerit or expelled
Not allow to use money from home
Performance grading cannot be lower than excellent
Cannot disclose this agreement
If he breaches any of the rules, he is better prepared psychologically to find another job!
As a result, Zi Qi comes to Jing Shi Department Store as an assistant in the sales department. In these 365 days, he not just only receive low salary, but have to accept the deployment of other staffs. He can no longer mixes around with friends, cannot ride the car, cannot buy branded items, cannot afford fine dining restaurant, and has to endure the crowded public transport everyday. His colleagues regard him as odd job labor, and often look down on him, verbally satire, but do not know his real prominent identity.
At first, Zi Qi disagrees with Xin Ren who is responsible to bring him on the job, and despises her "Office Survival Guide" theory, but the "Grassroots Life Saving Theory" has managed to save him for a few times. Finally, Zi Qi get used to normal people's lives, and after solving several major things in cooperation with Xin Ren, he also began to have feeling on the sales department.
In order to arouse his own son morale who is smart but unintelligent, Mu Bai hires the person-in-charge of a well-known boutique agency Yu Cheng Feng as general manager, and wants his son to battle with him! Cheng Feng handsome appearance, serious and responsible leadership style, courteous gentleman, have made him immediately popular in the Jing Shi Department Store, becoming the best charming prince in the minds of female employees! Will Qi Zi who is jealous works harder due to the external stimulus effort?
After long time together, Qi Zi finds that he is getting falling in love with his enemy Xin Ren. As he gradually recognizes this fast, Cheng Feng who he always seen as competitor has also began to pursue the Xin Ren.
Episode Synopsis
Episode Ratings
| Date | Episode | Rating | Viewership Ranking |
| --- | --- | --- | --- |
| 21 August 2011 | 1 | 2.78 | 1 |
| 28 August 2011 | 2 | 3.44 | 1 |
| 4 September 2011 | 3 | 3.48 | 1 |
| 11 September 2011 | 4 | 3.72 | 1 |
| 18 September 2011 | 5 | 4.16 | 1 |
| 25 September 2011 | 6 | 4.54 | 1 |
| 2 October 2011 | 7 | 4.40 | 1 |
| 9 October 2011 | 8 | 4.68 | 1 |
| 16 October 2011 | 9 | 5.17 | 1 |
| 23 October 2011 | 10 | 4.89 | 1 |
| 30 October 2011 | 11 | 5.35 | 1 |
| 6 November 2011 | 12 | 5.97 | 1 |
| 13 November 2011 | 13 | 5.56 | 1 |
| 20 November 2011 | 14 | 5.35 | 1 |
| 27 November 2011 | 15 | 5.05 | 1 |
| 4 December 2011 | 16 | | |
Source: AGB Nielsen
Trivia
Xiaozi (小資), the first two characters of the drama title, is a Chinese cultural term describing a lifestyle chasing modern taste, living standards, and arts. Originally the term was a Chinese translation of petite bourgeoisie, to indicate the sandwiched lower middle social classes, who are not as poor as the proletariat but not as rich as the bourgeoisie.

In Taiwan, it's generally used to describe working class who has worked for 4 to 5 years, has consistent income and small savings. They live to enjoy life, and try to maintain a minimum standard of lifestyle and living quality without their means. The final aim is always to has own home.
Office Girls OST (Opening Theme Song) – No No / Don't Don't (Bu Yao Bu Yao)
Office Girls OST (Closing Theme Song) – Slightly Add Happiness (Wei Jia Xin Fu)
Office Girls OST (Insert Song) – Can't Afford To Be Hurt
Office Girls OST (Insert Song) – Good Friend Is Just A Friend
Office Girls OST (Insert Song) – Too Calm
Office Girls OST (Insert Song) – Free Falling Object that Wants to Fly
Office Girls OST (Insert Song) – Enough
Office Girls OST (Insert Song) – Never
Office Girls Behind the Scenes (BTS)
Office Girls Wallpapers
Office Girls iOS App
Office Girls Blog and Site Badges
Filming Venue – TaiMaill
Watch online with English and Chinese subtitle at viki.com.
Watch online with Chinese subtitle (no longer available at youku.com tudou.com or letv.com, probably due to TV broadcaster bought the rights).
News, Interview and Behind the Scene
Photo Gallery