The member of South Korean popular boy band Super Junior, Choi Si Won, after having a good performance in the "Athena: Goddess of War," his acting skill in the Poseidon drama currently in air is also commendable, and is also well received.
In Poseidon action drama which describes the story of Coast Guard, Choi Si Won plays the lead role for the first time as Kim Sun Woo. Kim Sun Woo used to be the problematic character for marine police special task force, and was transferred to Incheon Coast Guard Investigation 9 team after involving in dispute.
Although as a singer, Choi Siwon is the darling of Hallyu (Korean Wave), gathering all the love of fans, but as an actor, Choi Siwon is just a rookie. Leading the drama by a new star is bound to cause a lot of suspicion, but Choi Siwon is using his acting and efforts to eliminate these doubts. Choi Si Won has played very realistically the character of Kim Sun-woo who is full of justice and domineering, especially when wearing the uniform of the special force, Choi Si Won looks handsome, extremely seductive.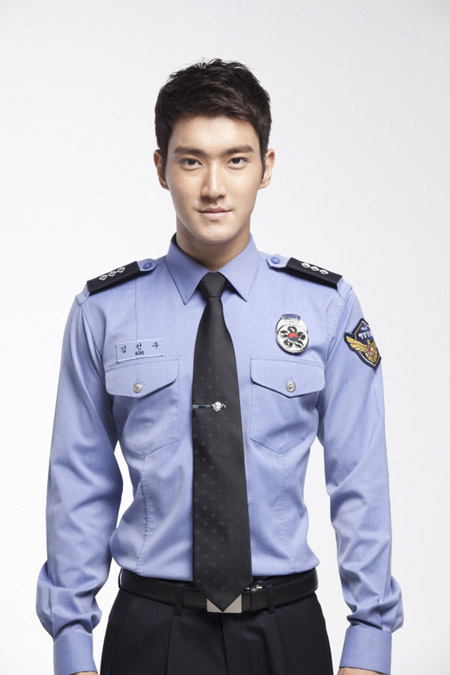 Choi Si Won said: "Even my mother said she didn't expect I am so suitable to wear uniform. I am still young, the role is too great, so initially I was not so confident on whether I can play well. Later, after I met with the director Yoo Chul Yong, I eliminated these hesitations. Director Yoo Chul Yong is the director for my most favorite TV series during high school time, All In, so I just want to go all out to follow director Yoo Chul Yong."
In fact, before Choi Si Won became a singer, he was starting as an actor even earlier. In 2005, Choi Si Won appeared in "Eighteen, Twenty-Nine" drama and "A Battle of Wits" movie starring Andy Lau and Ahn Sung-ki. "Many people are not clear, I played a youth character in "Eighteen, Twenty-Nine," at that time I was a trainee at SM Entertainment company. Company allowed me to try so I went. But after participating in the two films, I became interested in acting, and would like to continue acting. In fact, Super Junior was originally planned to carry out only three months of short-term activities, the result is that at a blink of eye it has been six years. Most people says the life span of idol bands is just 5 years, but I think Super Junior will go very far."
Choi Siwon does not deny that his identity of idol singer helps to bring a lot of opportunities to perform, "Because I am a member of Super Junior, that's why have the chance to act in such a big role, my sense of responsibility and the burden have also became heavier. As it's a new attempt, I feel very nervous every moment. Although Super Junior has debuted six years, I still carry out singer's activities with attitude of a rookie, not to mention that now I am an actor. Especially the salutation of "idol singer turned actor" has made me even more cautious. Fortunately, I myself is a more optimistic person, so one the one hand nervous, on the other hand also think that "where got people who can do well at the start," I really want to perform excellently in acting."
Choi Si-won's family is wealthy, after been discovered by SM Entertainment, he only joined the entertainment industry after a year of persuasion. "If I was not convinced by SM Entertainment, I may be going to study abroad according to family plan. My family is very conservative, at home, not even one piece of band poster can be hang, and I couldn't even buy a cassette of Seo Tai Ji who was very popular at that time. But on the issue of entering showbiz, parents eventually lost to me."
"Now my father is very happy, I think there is no the current me if there is no prayer of father. I do not have a break after debut. All things are the same, once place for a long time will rust. So I know the importance of time, when there is free time will think of how to use it, I hope can also be like currently to live busily and happily.
via Asiae