After the lover photo of Super Junior member Choi Si Won and Han Ji Min made public, it became focus of attention.
On December 5th, 2011, Choi Si Won uploaded a photo to his Twitter, and wrote a message, "In the filming of CF, with sister Ji Min who is getting even more beautiful. She will be greeting viewers in the new project Padam Padam, it's a drama that I personally looking forward to, hope everybody can support Padam Padam."
In the photo, Siwon is seen wearing a dark olive green T-shirt, and putting his hand over the shoulder of Han Ji Min who was wearing a white elegant gown, both of them looked intimate. Standing besides the entertainment circle famous small face beauty, Choi Si Won small face is not losing the fight, with both both looking comfortable in each others' presence.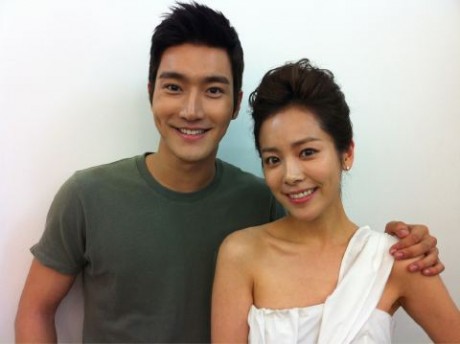 After watching the photo, netizens said one after another, "Both persons has small face," "Ji Min is beautiful like a goddess," "Handsome guy and beauty couple," and so on.
via TVDaily