In Poseidon, Choi Si Won and Lee Shi Young will act as the core member of the squad, respectively as Kim Seon Woo who has suffered setback due to involvement in disgraceful event, and Lee Soo Yoon, a joyful and easy-going coast guard officer who has characteristics different from other women. The fresh combination of two dynamic actors have raised the audience's expectation to higher level.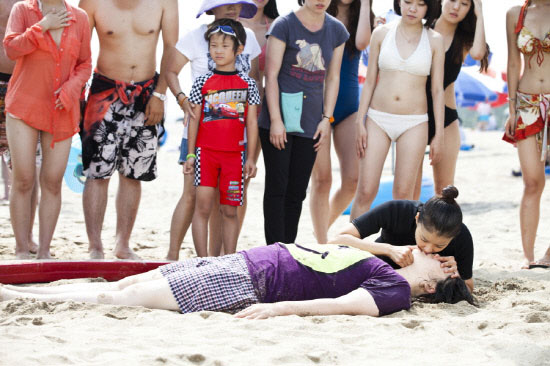 Both actor and actress has had perfect acting performance, and manages to skillfully present the special career of coast guard, attracting audience attention. This is the first time a drama series in the counter has the theme of coast guard, and Poseidon actor and actress show the vivid life and love of the coast guards.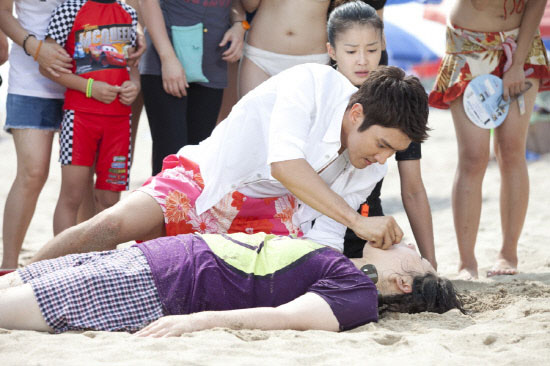 On August 14th, Choi Si Won and Lee Shi Young had shown the morale boosting of passionate coast guards when on their mission at the filming venue at Naksan Beach of Yangyang-gun of Gangwon-do in South Korea. On the filming scenes of that summer day, Lee Shi Young was saving a tourist who was drown. The beach has coast guard office, and Shi Young immediately dispatched after hearing the siren.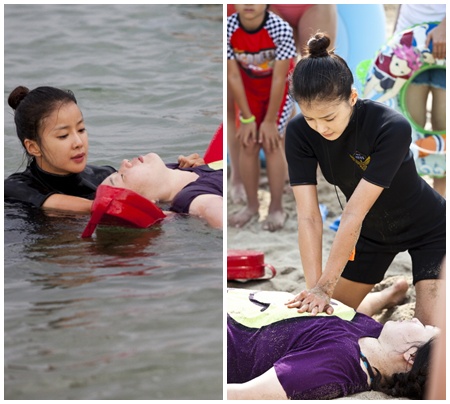 In order to accurately portray the scene of helping the woman who fell into the water, Shi Young has insisted on training on swimming skill for 4 hours daily for months. Actually, without body-double, and at the sea, the slightest mistake can cause danger, but Lee Shi Young had demonstrated great enthusiasm during over 4 hours of shooting, without showing sign of fatigue.
Shi Young gave first aid to the rescued people, and implement CPR with artificial respiration. But there was no progress. In her panic, Kim Sun-woo (Choi Si Won) of the maritime police agent who was on the scene, is indeed an effective team member, he did emergency recovery so that the patient regained consciousness. In fact, both of them learned the latest CPR technique with Poseidon production team. And with the latest version of the CPR and artificial respiration technique of 2011, they constantly renewed and learned. Thanks to a number of practical exercises, both of them acted perfectly during the emergency scene, and was praised by production team.
After the shooting started, both of them is at the same tune just like two siblings, constantly making pleasant atmosphere in the hot filming venue. Thanks to the nice and warm atmosphere in the shooting venue, expectation to the "Poseidon" is further strengthened.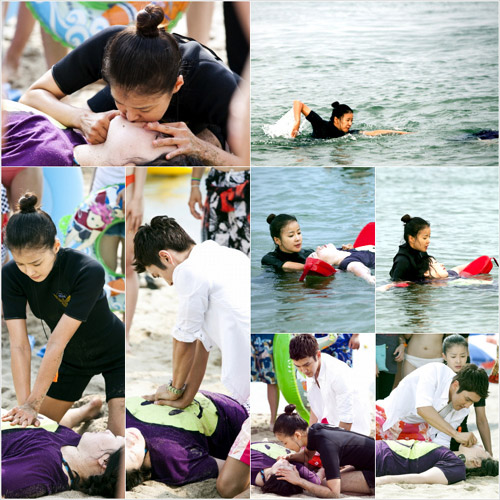 Poseidon is th first drama with the theme of maritime police, depicting a heroic story of maritime police fighting with criminals who are violating the law on the oceanic territory which is 4.5 times bigger than the land area. Poseidon is directed by Yoo Chul Yong of "All In" and written by Jo Gyu Won of "IRIS."