Your Rating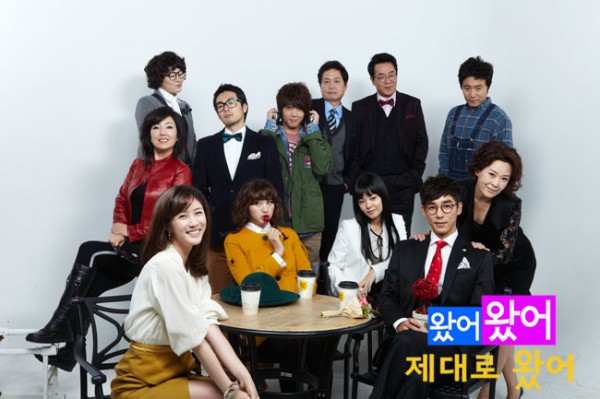 Drama Title: Come, Come, Absolutely Come
Korean Title: 왔어왔어 제대로 왔어
Romanization Pronunciation: Wass-eo Wass-eo Je-dae-ro Wass-eo
Chinese Name: 来了来了终于来了 / 来了来了真的来了
Japanese Name: 来たよ来たよこりゃ来たよ
Previously Known As: You Drive Me Crazy (너 때문에 미쳐 / Neo Ddae-moon-e Mi-chyeo / 因你而狂 / 木已成舟)
Genre: Comedy
Episodes: 60
Broadcast Place: South Korea
Broadcast network: MBN
Broadcast period: 5 December 2011 – 2 March 2012
Language: Korean
Air time: Monday to Friday 9:00 PM (9:30 PM from December 26th, 2011)
Preceded By: N/A
Followed By:
Plot Summary / Synopsis
A funny sitcom depicts the situational story of three unique and comical men and women living under one roof in the same house, and start a variety of daily life.
Cast
Lee Soo Kyung (이수경) as Bae Soo Jin (배수진)
Yoo In Young (유인영) as Kim Sae Bom (김새봄)
Jin Lee Han (진이한) as Ko Chan Young (고찬영)
Oh Won Bin (오원빈)
Kang Nam Gil (강남길)
Lee Hwi Hyang (이휘향)
Cha Hwa Yun (차화연)
Han Jin Hee (한진희)
Production Credits
Director: Kim Hee Won (김희원)
Screenwriter: Hwang Yeo Reum (황여름), Kim Kyeong Mi (김경미), Seon Seung Yeon (선승연)
Trivia
First American style sitcom in Korea.
Official Site
Official Photo Gallery
Come, Come, Absolutely Come OST Part 1 – Missing You
Come, Come, Absolutely Come OST Part 2 – If Love Changes
Watch online with English subtitle (not yet available).
Watch online with Chinese subtitle at letv.com, tudou.com or youku.com.
Photo Gallery