Your Rating
Korean singer Navi (나비) has released her OST track for MBN sitcom drama series Come, Come, Absolutely Come (왔어 왔어 제대로 왔어) on December 7, 2011. The title of the original soundtrack is "Missing You," featuring Pae Nuri (배누리) of FIX.
"Missing You" is composed by Gavy NJ and KCM, and produced by a famous producer Min Myung Ki. The clear and beautiful voice of Navi enhanced the song's medium tempo and smooth melody.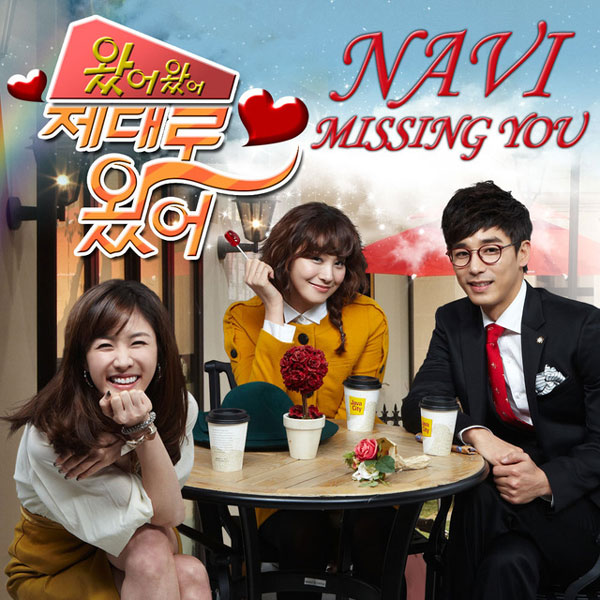 Come, Come, Absolutely Come OST Part 1 Track List
Missing You (Feat. F.I.X's Pae Nuri / 배누리) – Navi
Missing You – Instrumental
Listen to Missing You at YouTube.
Missing You MV
Missing You Korean Lyric (with Romanization Pronunciation)
널 사랑해 I'm missing you I'm missing you
neol salanghae I'm missing you I'm missing you
지금 이 거리에 온통 너로 가득해서
jigeum i geolie ontong neolo gadeughaeseo
눈 감아도 귀를 막아봐도 난 missing you
nun gam-ado gwileul mag-abwado nan missing you
오늘따라 왠지 따뜻한 햇살마저 너를 떠올리게 해
oneulttala waenji ttatteushan haes-salmajeo neoleul tteoollige hae
너와 함께 즐겨 들었던 익숙한 그 노래가 흘러나와
neowa hamkke jeulgyeo deul-eossdeon igsughan geu nolaega heulleonawa
때로는 친구처럼 때로는 연인처럼
ttaeloneun chingucheoleom ttaeloneun yeon-incheoleom
날 어지럽게 해 그래도 좋은 걸
nal eojileobge hae geulaedo joh-eun geol
또 바보처럼 난
tto babocheoleom nan
널 사랑해 I'm missing you I'm missing you
neol salanghae I'm missing you I'm missing you
지금 이 거리에 온통 너로 가득해서
jigeum i geolie ontong neolo gadeughaeseo
눈 감아도 귀를 막아봐도 난 missing you
nun gam-ado gwileul mag-abwado nan missing you
오늘 너를 볼 것 만 같아 내 발걸음 점점 빨라 지고
oneul neoleul bol geos man gat-a nae balgeol-eum jeomjeom ppalla jigo
나를 안아주던 니 품과 닮은 실바람이 날 감싸 안아
naleul an-ajudeon ni pumgwa dalm-eun silbalam-i nal gamssa an-a
때로는 친구처럼 때로는 연인처럼
ttaeloneun chingucheoleom ttaeloneun yeon-incheoleom
날 어지럽게 해 그래도 좋은 걸
nal eojileobge hae geulaedo joh-eun geol
또 바보처럼
tto babocheoleom
널 사랑해 I'm missing you. I'm missing you
neol salanghae I'm missing you. I'm missing you
지금 이 거리에 온통 너를 가득해서
jigeum i geolie ontong neoleul gadeughaeseo
눈 감아도 귀를 막아봐도 난
nun gam-ado gwileul mag-abwado nan
(Rap)
Yes sir hell no I ain't stopping
Yes sir hell no I ain't stopping
새롭게 느껴지는 내 안의 Passion
saelobge neukkyeojineun nae an-ui Passion
솜사탕처럼 부드럽게 내 맘을 녹여 놓았던 ex I'll be missing you.
somsatangcheoleom budeuleobge nae mam-eul nog-yeo noh-assdeon ex I'll be missing you.
난 괜찮아 돌아봐도 내가 기대어 쉴 곳은 너야
nan gwaenchanh-a dol-abwado naega gidaeeo swil gos-eun neoya
그래 난 괜찮아 사랑은 나쁘다고 생각하지 않아
geulae nan gwaenchanh-a salang-eun nappeudago saeng-gaghaji anh-a
나는 절대 혼자라고 생각하지 않아
naneun jeoldae honjalago saeng-gaghaji anh-a
You and I Missing you baby girl 너와 나
You and I Missing you baby girl neowa na
널 사랑해 I'm missing you I'm missing you
neol salanghae I'm missing you I'm missing you
지금 이 거리에 온통 너로 가득해서
jigeum i geolie ontong neolo gadeughaeseo
눈 감아도 귀를 막아봐도 난 missing you
nun gam-ado gwileul mag-abwado nan missing you
날 바라봐 Say I love you. Say I love you.
nal balabwa Say I love you. Say I love you.
내게 속삭여줘
naege sogsag-yeojwo
내 맘 가득 차 올랐던 내 사랑을
nae mam gadeug cha ollassdeon nae salang-eul
이젠 너에게 줄게 I love you
ijen neoege julge I love you
Missing You Lyric English Translation
I love you, I'm missing you, I'm missing you
The street is now full of you
Even if I close my eyes, cover my ears, I'm missing you
Why does even the warm sunlight today reminds me of you
The familiar song that we enjoyed listening together is playing
Sometimes, like friend, sometimes, like couple
It disturbs me but I still like it
And I'm like a fool
I love you, I'm missing you, I'm missing you
The street is now full of you
Even if I close my eyes, cover my ears, I'm missing you
I feel like I'm going to see you today, my footsteps are getting faster
The light breeze that feels like your hug is embracing me
Sometimes, like friend, sometimes, like couple
It disturbs me but I still like it
And I'm like a fool
I love you, I'm missing you, I'm missing you
The street is now full of you
Even if I close my eyes, cover my ears
Yes sir hell no I ain't stopping
The feel of new passion inside me
Soft like a cotton candy, melting my heart, my ex, I'll be missing you
I'm okay, I look back, you're the one that I can lean on and rest
Yes, I'm okay, I don't think love is bad
I never think I'm alone
You and I, missing you baby girl, you and I
I love you, I'm missing you, I'm missing you
The street is now full of you
Even if I close my eyes, cover my ears, I'm missing you
Look at me, say I love you, say I love you
Whisper to me
The love that filled up my heart
I will give it to you now, I love you