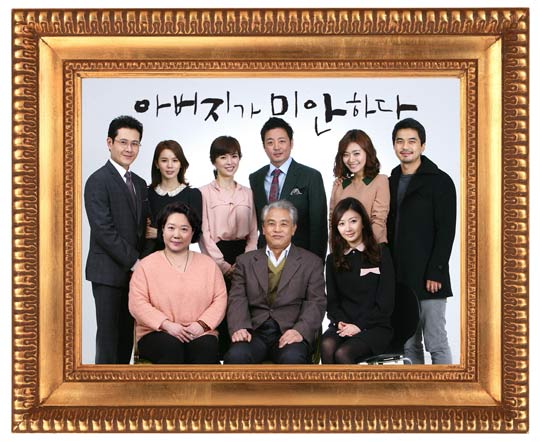 Drama Title: Daddy's Sorry
Korean Title: 아버지가 미안하다
Romanization: Abeojiga Mianhada
Also Known As: Dad Says I'm Sorry / Father is Sorry / I'm Sory, Dad
Chinese Name: 爸爸的对不起
Japanese Name: 父が申し訳ありません
Genre: Family
Episodes: 3
Broadcast Place: South Korea
Broadcast Network: TV Chosun
Broadcast Period: 23 January 2012
Language: Korean
Air time: Monday 9:40 PM
Preceded By: –
Followed By: –
Plot Summary / Synopsis
A traditional drama that depicts the family problems in modern society through conflict of parents with four siblings.
Cast
Kim Young Chul (김영철) as Yong Man (용만)
Yang Hee Kyung (양희경) as Soon Joo (순주)
Lee Min Woo (이민우) as Dong Sik (동식)
Park Shi Eun (박시은) as Hye Ri (혜리)
Shin Eun Jung (신은정) as Hee Sook (희숙)
Yoon Da Hoon (윤다훈) as Young Hoon (영훈)
Jung Joon (정준) as Dong Soo (동수)
Lee Young Eun (이영은) as Kyung Ae (경애)
Heo Young Ran (허영란) as Hee Kyeong (희경)
Production Credits
Director: Kwon Hyuk Chan (권혁찬)
Screenwriter: Kim Soo Hyun (김수현)
Trivia
The 3-episode drama is for celebration of establishing of one of general service channel, Chosun TV. The drama aired during Lunar New Year.
Daddy's Sorry Trailer: Teaser Trailer
Watch online (without English or Chinese subtitle) at tv.chosun.com.
Watch online with Chinese subtitle (not yet available).
Photo Gallery