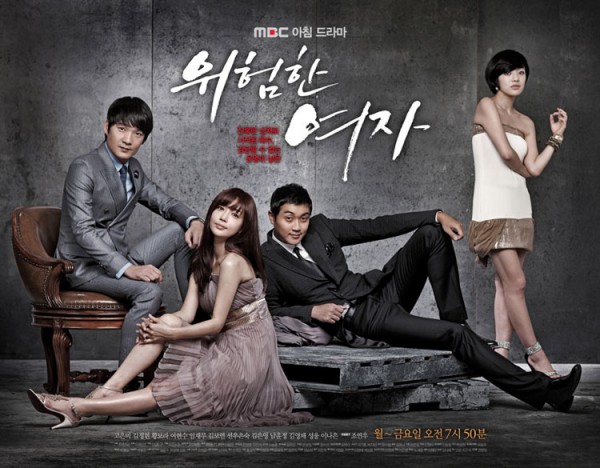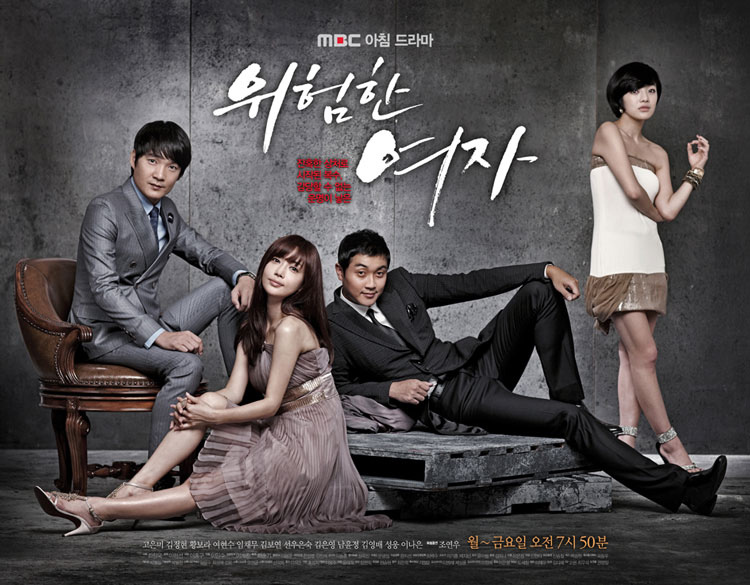 Drama Title: Dangerous Woman
Korean Title: 위험한 여자
Also Known As: Wiheomhan Yeoja
Chinese Title: 危險的女人
Genre: Family, Romance
Episodes: 124
Broadcast Place: South Korea
Broadcast network: MBC
Broadcast period: 10th October 2011 – 30th March 2012
Language: Korean
Air time: Monday to Friday 7:50 AM
Preceded By: You're So Pretty
Followed By:
Plot Summary / Synopsis
A drama about a daughter of an entrepreneur fighting against a plot to take over her father's business.
Cast
Ko Eun-mi (고은미) as Kang Yoo-ra (강유라)
Hwang Bo-ra (황보라) as Kang So-ra (강소라)
Kim Jung-hyun (김정현) as Kim Ji-won (김지원)
Yeo Hyun-soo (여현수) as Kang Dong-min (강동민)
Kim Bo-yun (김보연) as Yoon Do-hee (윤도희)
Jo Yeon-woo (조연우) as Kang Dong-joon (강동준)
Sun-woo Eun-sook (선우은숙) as Na Yun-sook (나연숙)
Im Chae-moo (임채무) as Kang Joo-hyuk (강주혁)
Kim Young-bae (김영배) as Director Choi (최이사)
Lee Na-eun (이나은) as Lee Seo-joo (이서주)
Seong Woong (성웅) as Lee Seo-hoon (이서훈)
Nam Yoon-jeong (남윤정) as Nam Ji-sook (남지숙)
Kim Eun-yeong (김은영) as Lady Sin (신여사)
Production Credits
Director: Lee Min-soo (이민수)
Screenplay Writer: Lee Hong-goo (이홍구)
Official Site
Official Photo Gallery
Official Behind the Scene Video Clips
Watch online with English subtitle (not yet available).
Watch online with Chinese subtitle at letv.com, tudou.com or youku.com.
News, Interview and Photo Gallery
Photo Gallery