The director of KBS2's Wednesday and Thursday drama Lee Jung Sup is confident that Glory Jane / Man of Honor will win the battle of ratings in the competition with dramas of same time slot including SBS's A Tree with Deep Roots.
In the evening of November 3rd, 2011, Glory Jane held a informal press round table at Cheongju City Hall. Director Lee Jung Sup, Chun Jung Myung, Lee Jang Woo, Park Min Young and Choi Myung Gil and others attended to event to share stories on what happened behind the scenes.
The first episode of Glory Jane aired on October 12 only managed to get 8.2% in viewer ratings (AGB Nielsen Media Research), 10 percent behind the rating for SBS's Deep Rooted Tree on the same day at 18.2 percent. However, ratings for Glory Jane started to rise in subsequent episodes, and at the eighth episode of Glory Jane aired on November 3, Glory Jane has succeeded in catching up with Deep Rooted Tree with ratings as high as 14%.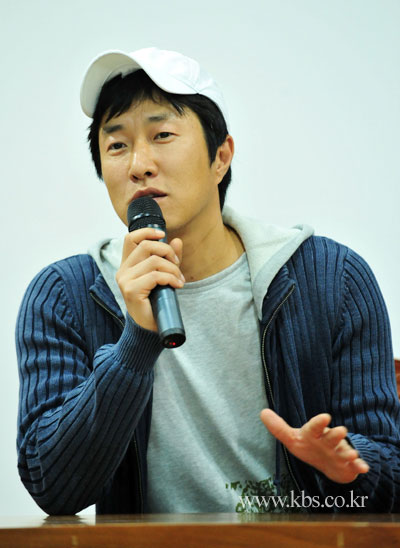 When asked what is his feeling about competing with MBC's Me Too, Flower! and SBS's Deep Rooted Tree, Lee showed his strong determination, "The drama I directed used to compete with Queen Seon Deok, and the ratings was routed with only 6%. The painful memory is still vivid. I will continue to try to bring down Deep Rooted Tree. In fact we were also hit with hard times during Baker King, Kim Tak Goo, but we won over everything in the end."
Lee Jung Sup confidently said, "The Deep Rooted Tree ratings are wavering now. I believe after next week we can overtake them with improved ratings. You can definitely look forward to it as we will only shoot the story that ratings will go up."
On the strength Glory Jane has over the competitors' drama series, he said, "Our greatest strength is the script. Even the actors and I look forward to seeing what is the plot for the next episode. That the actors and staff are actually the fans of the drama themselves is our greatest strength."
As to some viewers can feel the touch of Baker King, Kim Tak Goo in Glory Jane, he said, "Don't they feel the taste of Hong Gil Dong in it?"
Lee Jung Seob said, "When watching drama, if somebody wants to look for similarity, there will be endless findings. I will try to do our best to let viewers to immerse into the story, and to produce fresh characters and drama."