Your Rating
"Enough" (夠了) or in Pinyin, Gou Le or Gou Gou Liao, is a song recorded in the new album of Genie Zhou Wen Xuan (卓文萱) titled "Just the Way I Am" (反正 卓文萱) released on November 4th, 2011. The ballad song Enough is also an insert song used for Office Girls OST (original soundtrack).
The lyric of the Enough ballad song was written lyric by Genie Zhou about one of her failed romances.
Listen to Enough (夠了) at YouTube.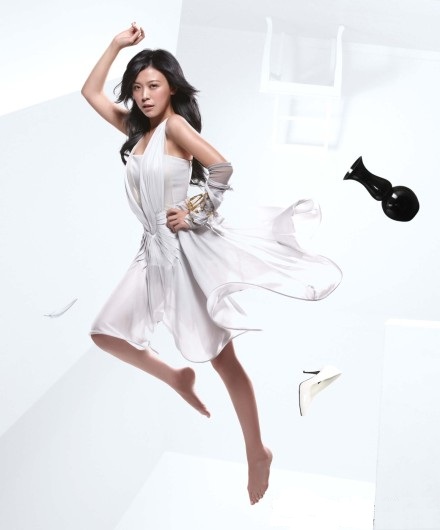 Enough (夠了) Lyric
轉了幾個彎 停了幾個站
天亮了 迷路了 你沒有過問
挽回幾次了 煩心幾遍了
哭過幾次才懂得我剩一個人
不想再愛了 不想捨不得
不想要變成 最後認輸的人
想哭想瘋想忘了
你曾是我愛的那個人
不想再愛了 不想再痛了
就算會失去了天份
我想安穩 我想完整
我想我受的傷夠了
思念一個人 也寂寞的人
擁有的 失去了 我害怕什麼
獨自一個人 獨自面對著
揮不散你的體溫 掙脫又如何
不想再愛了 不想捨不得
不想要變成 最後認輸的人
想哭想瘋想忘了
你曾是我愛的那個人
不想再愛了 不想再痛了
就算會失去了天份
我想安穩 我想完整
我想我受的傷夠了
誠實的面對我自己 想擺脫記憶
在破碎之後能永遠忘記你
不想再愛了 不想捨不得
不想要變成 最後認輸的人
想哭想瘋想忘了
你曾是我愛的那個人
不想再愛了 不想再痛了
就算會失去了天份
我想安穩 我想完整
我想我受的傷夠了 夠了
Enough (夠了) Lyric English Translation
轉了幾個彎 停了幾個站
Turn a few corners, stop at a few stations
天亮了 迷路了 你沒有過問
Day's broken, lost the way, you don't ask
挽回幾次了 煩心幾遍了
Redeem a few times, bother a few times
哭過幾次才懂得我剩一個人
Only after crying a few times that I understand left only a person
不想再愛了 不想捨不得
Do not want to love again, do not want to grudge
不想要變成 最後認輸的人
Do not want to be the last person to admit defeat
想哭想瘋想忘了
Want to cry, want to go crazy, want to forget
你曾是我愛的那個人
You used to be the person I love
不想再愛了 不想再痛了
Do not want to love again, do not want to hurt again
就算會失去了天份
Even if losing the talent
我想安穩 我想完整
I want smooth and steady, I want complete
我想我受的傷夠了
I think the hurt I suffered is enough
思念一個人 也寂寞的人
Missing a person, a person who is also lonely
擁有的 失去了 我害怕什麼
Possessed, lost it, what do I afraid of
獨自一個人 獨自面對著
Alone a person, facing alone
揮不散你的體溫 掙脫又如何
Unable to disperse your body temperature, so what after struggling to free oneself
不想再愛了 不想捨不得
Do not want to love again, do not want to grudge
不想要變成 最後認輸的人
Do not want to be the last person to admit defeat
想哭想瘋想忘了
Want to cry, want to go crazy, want to forget
你曾是我愛的那個人
You used to be the person I love
不想再愛了 不想再痛了
Do not want to love again, do not want to hurt again
就算會失去了天份
Even if losing the talent
我想安穩 我想完整
I want smooth and steady, I want complete
我想我受的傷夠了
I think the hurt I suffered is enough
誠實的面對我自己 想擺脫記憶
Facing myself honestly, want to get rid of memory
在破碎之後能永遠忘記你
After broken can forget you forever
不想再愛了 不想捨不得
Do not want to love again, do not want to grudge
不想要變成 最後認輸的人
Do not want to be the last person to admit defeat
想哭想瘋想忘了
Want to cry, want to go crazy, want to forget
你曾是我愛的那個人
You used to be the person I love
不想再愛了 不想再痛了
Do not want to love again, do not want to hurt again
就算會失去了天份
Even if losing the talent
我想安穩 我想完整
I want smooth and steady, I want complete
我想我受的傷夠了 夠了
I think the hurt I suffered is enough, enough