The 3rd original sound track (OST) for MBC 50th anniversary drama series Lights and Shadows is released on January 10th, 2012. Lights and Shadows OST part 3 has the song with the title of Everything.
Everything is sang by the actress who is starring in the drama, Son Dam Bi (손담비). The lyric for the song of Everything is written by Yang Kyung Joo and the song of Everything is composed by Yoon Myung Sun.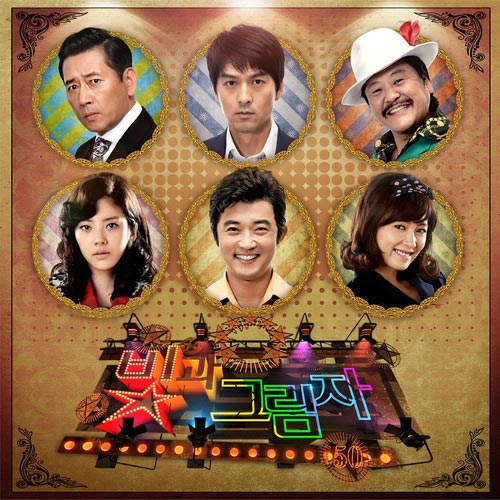 Lights and Shadows (빛과 그림자) OST Part 3 Track List
Everything – Son Dam Bi
Everything – Instrumental
Listen to Everything at YouTube.
Everything Lyric
나를 만나서 행복했었니
너를 만나서 난 행복했어
바람이 불어올때마다 네 목소리가 들려
이 세상에서 가장 슬픈 노래처럼
난 무척 아팠어 많이 힘들었어
정말로 미안해 용서해줘
사랑이란건 모든걸 말할 순 없잖아
언젠가 너도 그 맘 알게 될거야
사랑해서 너무 보고싶어서
너의 곁에 오고 싶어서
너를 보며 내가 울고 있어
너보다 날 위해 좋은 사람 만나줘
언제나 웃으며 사랑하며 다시는 슬퍼하지마
나의 everything
넌 많이 힘들지 넌 많이 아프지
정말로 미안해 용서해줘
이별이란건 모든걸 말할 순 없잖아
언젠간 너도 그 맘 알게 될거야
사랑해서 너무 보고싶어서
너의 곁에 오고 싶어서
너를 보며 내가 울고 있어
너보다 날 위해 좋은 사람 만나줘
언제나 웃으며 사랑하며 다시는 슬퍼하지마
나의 everything
혹시 다음 세상에서도 너를 만날 수만 있다면
그때는 그때는 아프지 않을게
나를 떠나지 말아줘
사랑해서 너무 보고싶어서
너의 곁에 오고 싶어서
너를 보며 내가 웃고 있어
너보다 날 위해 좋은 사람 만나줘
언제나 웃으며 사랑하며 다시는 슬퍼하지마
나의 everything
Everything Lyric Romanization
nareul mannaseo haengbo-khaesseo-nni
neoreul mannaseo nan haengbo-khaesseo
barami bu-reo-ol-ttae-mada ne moksori-ga deullyeo
i sesangeseo kajang seulpeun noraecheoreom
nan mucheogapasseo manhi himdeu-reosseo
cheongmallo mianhae yongseohaejwo
sarangirankeon modeunkeol marhal sun eoptjanha
eonjenka neodo keu mam al-ke twehl-keoya
sarang-haeseo neomu bogoshipeoseo
neoye gyeote ogo shipeoseo
neoreul bomyeo nae-ga ul-ko isseo
neoboda nal wiihae choheun saram mannajwo
eonjena useumyeo sarang-hamyeo tashineun seulpeohajima
naye everything
neon manhi himdeul-ji neon manhi apeuji
cheongmallo mianhae yongseohaejwo
ibyeo-rirankeon modeunkeol marhal sun eoptjanha
eonjenkan neodo keu mam al-ke twehl-keoya
sarang-haeseo neomu bogoshipeoseo
neoye gyeote ogo shipeoseo
neoreul bomyeo nae-ga ul-ko isseo
neoboda nal wiihae choheun saram mannajwo
eonjena useumyeo sarang-hamyeo tashineun seulpeohajima
naye everything
hokshi da-eum sesangeseodo neoreul mannal suman it-damyeon
keuttae-neun geuttae-neun apeuji anheul-ke
nareul tteonaji marajwo
sarang-haeseo neomu bogoshipeoseo
neoye gyeote ogo shipeoseo
neoreul bomyeo nae-ga utko isseo
neoboda nal wiihae choheun saram mannajwo
eonjena useumyeo sarang-hamyeo tashineun seulpeohajima
naye everything
Everything Lyric English Translation
Are you happy to meet me?
I am happy to meet you
Whenever the wind blows, I hear your voice
Like the saddest song in the world
I am really hurt, it's very tough
I am really sorry, forgive me
The so called love, not everything can be said
Someday, you will understand it
I love you, I miss you so much
I want to come by your side
I look at you and cry
For me, please meet a good person that is better than you
Always smile and love, do not be sad again
My everything
It must be tougher for you, it must be more hurtful for you
I am really sorry, forgive me
The so called breakup, not everything can be said
Someday, you will understand it
I love you, I miss you so much
I want to come by your side
I look at you and cry
For me, please meet a good person that is better than you
Always smile and love, do not be sad again
My everything
If I can meet you again in the next life
Then, then I will not hurt you
Do not leave me
I love you, I miss you so much
I want to come by your side
I look at you and cry
For me, please meet a good person that is better than you
Always smile and love, do not be sad again
My everything