The venues appeared in idol dramas usually will become the gathering place of fans. So does Taiwanese idol drama Office Girls. In the drama, the lead actor and actress act as office staffs in the departmental store with the plot describing the hardship and bitterness of many working class, and manage to clinch top ranking in viewership ratings in Taiwan.
In the drama, Alice Ke Jia Yang plays a frugal OL (office lady) who is resonating with the audience, causing the rating to break 5 with more than 2 millions viewers watching the show. The venue of "Jing Shi Department Store" in the drama has hence become one of the place to look for the starts for fans.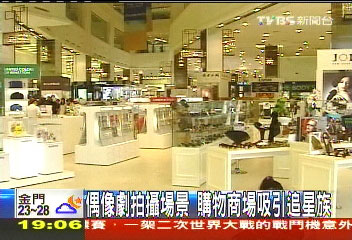 TVBS News reported that the department store is actually a shopping mall in Taoyuan, Taiwan. Almost all scenes of the Office Girls drama is shot in the shopping center. Some familiar scenes including the glass door where the casts walk into the hall on ground floor, the food court where lead character Xing Ren is having meal with good friend, and even the facade of the building is the same, only that the production team use computer retouching to change the name to "Jing Shi Department Store."
Fans on the venue said, "Come to revisit the scene in the idom drama." Reporter continued to ask, "So purposely come here?" Fans answered, "Yes." And continued, "When I came previously, I saw the actors, saw them did the shooting, yes."
One of the business owner in the shopping mall said, "There are customers who go to inform relatives and friends, there is even people who comes here to look for stars during holiday or even taking leave of absent during workdays."
The shopping mall is providing the venue free of charge to the production team, and in return the business owner earns the publicity which brings business opportunity. With the increasing popularity of the drama, the shopping mall even plan to tie in the plot, to set up an additional idol drama kiosk with the name of designer Yu Cheng Feng played by Wen Sheng Hao that lets fans to take photo.