Actor Yoo Ah admitted that SBS drama "Fashion King" has similarities with 2004 drama series "Something Happened in Bali".
On April 20th, 2012, he said, "Personally, I think 'Something Happened in Bali' is very interesting. I couldn't said that 'Fashion King' is all new."
"Although the screenplay writer for two dramas is the same person, but the actors are new generation of actors. The emotional involvement of current actors is certainly different, so it can be said that 'Fashion King' is a completely different drama. The interleave of love and desire, there are emotional entanglements regardless of time, thus there is people who said that our drama is similar to 'Something Happened in Bali'."
Yoo Ah In said, "The actors are tempted to say that the two dramas are different. The time of the actors is different, the feelings expressed naturally are also different. Although the emotional involvement cannot 100% satisfying the demand of the drama, but with each episode shot, the emotional of actors input into the drama definitely growing more."
"I really like the method of screenwriter Lee Sun Mi in creating the characters. Written very direct, and always write the kind of people who looks poor. I really like the method which bluntly expresses the inner heart of the poor."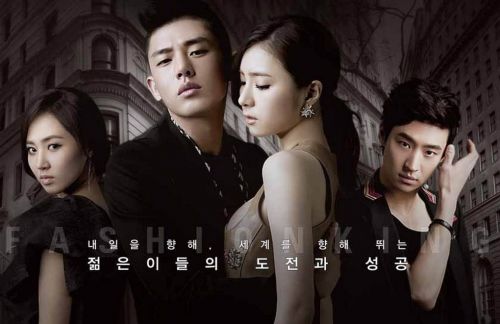 "Fashion King" tells the entanglement story in love and desire of four young persons, Yoo Ah In, Shin Se Kyung, Lee Je Hoon and Kwon Yuri, who dream of success in fashion industry. In the first half of the drama, the conflict between poor fellow and rich second-generation woman and subtle emotional changes between the four persons are very similar to the drama "Something Happened in Bali" 8 years ago.
Director Lee Myung Woo said, "Can only say that the structure of characters is very similar. The unfolding of the story has a certain routine, since it is one screenwriter, it indeed does have similarities. Even for wealthy second generation, it's different in two eras. The rich second generation played by Jo In Sung can do whatever he wants, but the rich second generation in 'Fashion King', Lee Je Hoon, although he is born into rich family, but he knew that if he does not perform, he couldn't live on, in this aspect, there is distinction ."
"In the drama, Yoo Ah In is ignorant of people around him. Looking through his heart, he is a person of great ambition and desire, and is just been hiding his talent and hard work possessed to achieve his target. All these required new interpretation and portrayal by actors. Although 'Fashion King' and 'Something Happened in Bali' have some similarities, but the development of the plot is very different."
via Nate