The song with the title of For You (널 위해) is another original sound track (OST) for Channel A drama series Color of Woman is released together with the full version OST album on February 20th, 2012. This makes the song been the 4th OST of the drama.
For You is the title song for the Color of Woman full-length OST album. The song of For You is written by Kim Jae-Seok, who is currently busy with Wanted's 3rd album ("Vintage") and included in his solo album last year, which is no doubt good news to his fans. Bringing out his unique appealing R&B singing style, the lyrics tell of a man who says goodbye to his lover and tries to forget her for her sake. The combination of the piano by the pianist AEV, who also took part in the arrangement, and the strings add to the mellow atmosphere of the song.
Kim Jae Suk also personally sang the song.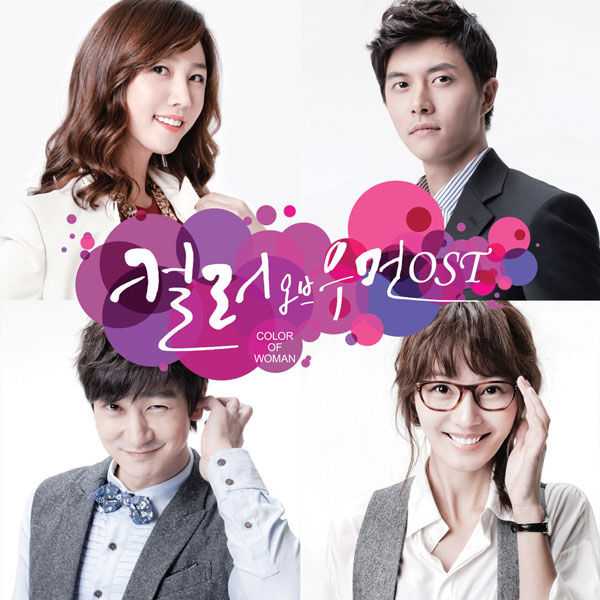 Color of Woman (컬러 오브 우먼) OST Full Length Album Track List
I Don't Like Myself (이런 내가 싫다) – Jisoo (지수)
For You (널 위해) – Kim Jae Suk (김재석)
Light Grey
Orange
Pink
Purple
Violet
Yellow Green
For You (널 위해) Official MV
For You (널 위해) Lyric
너를 떠나가는 내 모습
그래 널 위한 거라면
힘들어하는 내 가슴 따윈
견뎌내야겠지
시간이 나의 아픔들을
모두 다 지워주겠지
사랑했었던 추억들까지
가슴에 남지 않도록
모두 가져가겠지
잊진 못 할 거야 함께 했던 시간들
행복했으면 해 다른 너의 사랑도
함께 할 수 없는 아픔보다 힘이 드는 건
너를 지워버려야만 하는 것 같아
널 위해
시간이 나의 아픔들을
모두 지워주겠지만
사랑했었던 내 마음만은
그대로 남아있어서
기억하고 있어서
잊진 못할 거야 함께 했던 시간들
행복했으면 해 다른 너의 사랑도
이런 내 맘 조금만이라도 이해한다면
내가 흘린 눈물 모두 지워 버릴게
매일 밤 내게 말해
이제는 너를 보내야 한다고
잊으라고
잊진 못할 거야 함께 했던 시간들
행복했으면 해 다른 너의 사랑도
함께 할 수 없는 아픔보다 힘이 드는 건
너를 지워버려야만 하는 것 같아
널 위해
For You (널 위해) Lyric Romanization
neoreul tteona-ganeun nae moseub
keurae neol wiihan georamyeon
himdeu-reohaneun nae gaseum ttawiin
kyeondyeonaeya-get-ji
shi-gani naye apeumdeu-reul
modu da jiwojuget-ji
sarang-haesseot-deon chu-eokdeul-kkaji
gaseume namji anhdorok
modu kajyeo-ga-get-ji
i-jjin mot hal keoya hamkke haet-deon shi-gandeul
haengbo-khaesseumyeon hae dareun neoye sarangdo
hamkke hal su eom-neun apeumboda himi deuneun geon
neoreul jiwobeoryeoyaman haneun geot kata
neol wiihae
shi-gani naye apeumdeu-reul
modu jiwojuget-jiman
sarang-haesseot-deon nae ma-eummaneun
keudaero nama-isseoseo
giyeokha-go isseoseo
i-jjin mothal keoya hamkke haet-deon shi-gandeul
haengbo-khaesseumyeon hae dareun neoye sarangdo
ireon nae mam jo-geummanirado ihae-handamyeon
nae-ga heu-llin nun-mul modu jiwo beoril-ke
mae-il bam nae-ge marhae
ije-neun neoreul bonaeya handa-go
ijeura-go
i-jjin mothal keoya hamkke haet-deon shi-gandeul
haengbo-khaesseumyeon hae dareun neoye sarangdo
hamkke hal su eom-neun apeumboda himi deuneun geon
neoreul jiwobeoryeoyaman haneun geot kata
neol wiihae
For You (널 위해) Lyric English Translation
I am leaving you
Yeah, it's for your sake
My heart is heavy
I'll have to endure
My pain through time
It will erase all of them
Even the loving memories
Do not left in the heart
It will take away all of them
I will never forget the times we're together
I hope you are happy once you have another love
Harder than the pain of we cannot be together
Is that I have to forget you
For you
My pain through time
It will erase all of them
The love at my heart
Is remaining
Is remembering
I will never forget the times we're together
I hope you are happy once you have another love
Even if you understand just a little bit of my heart
I will clear all of my tears that I shed
Every night you tell me
That I have to let you go now
That I should forget you
I will never forget the times we're together
I hope you are happy once you have another love
Harder than the pain of we cannot be together
Is that I have to forget you
For you