The second OST theme song for Little Girl K (소녀K) is Forget About Me (잊어줘), which was released on August 26th, 2011. The Forget About Me is sang by Kim Jong Tae (김정태) who is also one of the main actor of the drama.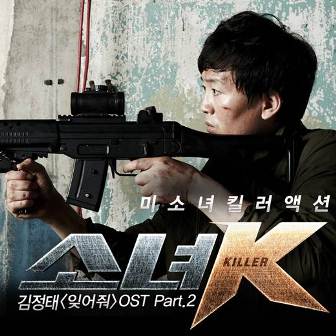 Little Girl K OST Part 2 Track List
잊어줘 / Forget about Me (Kim Jung Tae)
잊어줘 (Inst.)
Listen to Forget about Me at xiami.com.
잊어줘 (Forget about Me) Lyric (Hangul with Romanization)
행복했었던 날은 지나고
haengbokhaesseotdeon nareun jinago
나를 찾아온 이별에
nareul chajaon ibyeore
떠나라 하고 싶은데
tteonara hago sipeunde
어느새 내 옆자리에
eoneusae nae yeopjarie
너무 익숙해져버린 눈물 슬픔이라 할 수없 고
neomu iksukhaejyeobeorin nunmul seulpeumira hal sueobt go
버릇처럼 무뎌진 내겐 이별이란 없어
beoreutcheoreom mudyeojin naegen ibyeoriran eobseo
잊어줘 날 사랑한 게 아냐 행복했었던 기억들도
ijeojwo nal saranghan ge anya haengbokhaesseotdeon gieokdeuldo
지워줘 너와 함께한 시간도 모두 다 지워버려
jiwojwo neowa hamkkehan sigando modu da jiwobeoryeo
가슴 떨리던 설레임도 가슴 울리던 니 모습도
gaseum tteollideon seolleimdo gaseum ullideon ni moseupdo
추억으로 사랑을 또 묻고 기억은 가슴에 묻고
chueogeuro sarangeul tto mutgo gieogeun gaseume mutgo
길들여진 습관이 널 서둘러 또 찾아낸다
gildeullyeojin seupgwani neol seodulleo tto chajanaenda
너무 익숙해져버린 눈물 슬픔이라 할 수 없고
neomu iksukhaejyeobeorin nunmul seulpeumira hal su eopgo
버릇처럼 무뎌진 내겐 이별이란 없어
beoreutcheoreom mudyeojin naegen ibyeoriran eobseo
잊어줘 날 사랑한 게 아냐 행복했었던 기억들도
ijeojwo nal saranghan ge anya haengbokhaesseotdeon gieokdeuldo
지워줘 너와 함께한 시간도 모두 다 지워버려
jiwojwo neowa hamkkehan sigando modu da jiwobeoryeo
믿어줘 다신 널 찾지 않아 서로 모르던 사람처럼
mideojwo dasin neol chatji anha seoro moreudeon saramcheoreom
믿을게 너도 날 찾지 않기를 모두 다 지워버려
mideulge neodo nal chatji ankireul modu da jiwobeoryeo
가슴 떨리던 설레임도 가슴 울리던 니 모습도
gaseum tteollideon seolleimdo gaseum ullideon ni moseupdo
기억에 추억에 나는 잠이 든다
gieoge chueoge naneun jami deunda
잊어줘… 지워줘…
ijeojwo… jiwojwo…