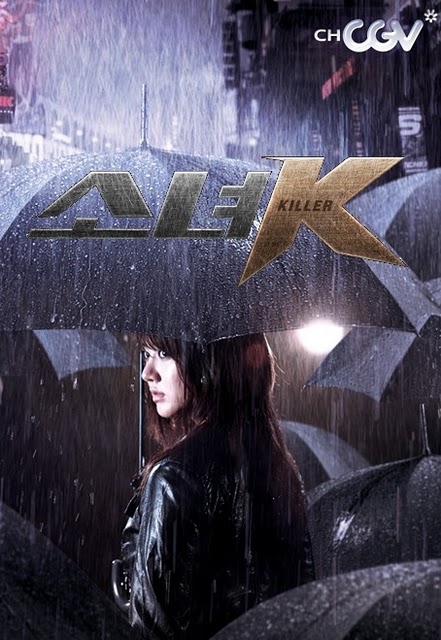 Drama Title: Little Girl K
Korean Title: 소녀K
Also Known As: So-Nyeo K / Killer K / Girl K
Chinese Title: 少女K / 小女孩K
Genre: Action, Thriller
Episodes: 3
Broadcast Place: South Korea
Broadcast network: CGV
Broadcast period: 27th August 2011 to 10th September 2011
Language: Korean
Air time: Saturday 24:00
Cast
Han Groo (한그루) as Cha Yeon Jin (차연진)
Kim Jung Tae (김정태) as Yoo Sung Ho / Yoo Seong Ho (유성호)
Park Hyo Joo (박효주) as Min Ji Yeong ((민지영))
Baek Do Bin (백도빈) as Choi Tae Young (최태영)
Jeon Mi Seon / Jun Mi Sun (전미선) as Cha In Sook (장인숙)
Kim Dong Joon (김동준) as Go Young Min (고영민)
Bae Noo Ri (배누리) as Nal Na Ri (날나리)
Kim Roe Ha as Jang Se Wook
Jun Gook Hwan as Kwon Do Hwan
Production Credits
Director: Kim Jong-hyeon (김종현)
Production Company: CJ E&M Pictures
Synopsis / Plot Summary
A drama about the lead character Cha Yeon-jin who is a high school girl. Yeon Jin's outwardly normal appearance and reticent character masks her true identity. She is a professional assassin who is lead by greed, gaining riches and fame by hook or by crook, and is now seeking out her father Kwon Do-hwan who is biological father in order to revenge for her mother.
Episode Rating
Episode 1: 1.14% (AGB Nielson)
Episode 2: 1% (AGB Nielson)
Trivia
Based on adaptation from popular online comic in Korea.
Contains some nudity (nude scenes) and excessive violent.
Girl K (Killer K) Trailers
Killer K (Girl K) Episode Trailer: Episode 1, Episode 2, Episode 3
Litle Girl K (Killer K) Behind the Scene Videos and Photos
Little Girl K OST: Part 1, Part 2
Watch online (with English subtitle) at viki.com.
Watch online (without English or Chinese subtitle) at tudou.com (episode 1, 2, 3).
News and Interview
Photo Gallery