The hilarious acting of foe lover in Wild Romance, Lee Dong Wook and Lee Si Young is making audience burst with laughter.
KBS 2TV Wednesday and Thursday drama series Wild Romance tells the romance story of baseball lover Eun Jae (played by Lee Si Young) who gets to know baseball player Park Moo Yul (played by Lee Dong Wook) belonged to her most hated baseball team, and then unwillingly becomes his bodyguard and gradually love began to bud.
In order to appease the humiliation video of baseball player Moo Yul, Eun Jae becomes the bodyguard of Moo Yul, and two persons begin to loathe each other in episode 1. In 2nd episode aired on January 5th, 2012, the duel between them is even more hilarious and comical.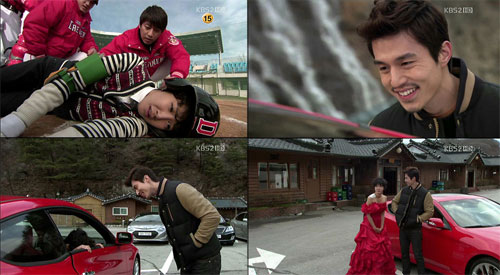 When wanting to escape when locked up in a warehouse at countryside, Eun jae is saved by emergency response 119. As the result she owes Moo Yul a favor. And the humiliation suffered by both persons including Moo Yul who is surrounded by mentally disabled patient because of Eun Jae is making audience laughing.
As the punishment for Moo Yul to lose a baseball game, the scene of humiliated Eun Jae who has to go to a rib restaurant to eat by wearing red dress and with imposing manner of walking red carpet is indeed the best scene among all the funny scenes.
The look of Eun Jae wearing a red dress revealing shoulders is making audience burst to laughter. Moo Yul who purposely let her wears a red skirt to go to the restaurant praises her as "very beautiful" but think another, showing his naughty face. The duel between the self-esteem of two persons really did give audience no choice but to laugh.
And the perfect funny acting of Lee Shi Young and Lee Dong Wook is critically acclaimed.