On April 14th, 2012, f(x) member Luna wrote on her me2day account, "Met In Young for 8 months. The time really flied."
In the published photo, Luna held a bouquet of flower on her hand and smiled. On her side were Kim Kyu Jong and Yoon Joon Sung who are co-starring with her in TV Chosun drama series "Saving Madame Go Bong Shil".
Luna said, "Dedicate to sold friend, brother Joon Sung, and brother Kyu Jong who is boyfriend in the drama and takes care of me whenever I feel cold. On the last day of filming, put down the regretful feeling, embracing the end with smile, click, really thanks the oppa during this period."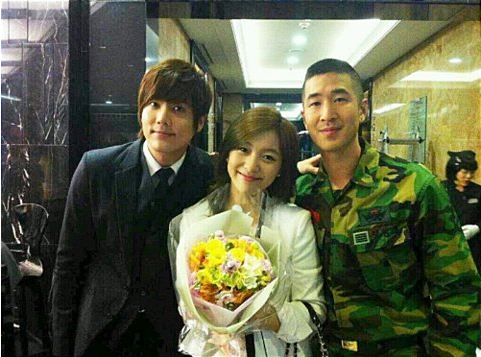 Netizens commented, "Luna between brothers is cute," "The smile of Luna is beautiful," "Actress Luna did well," "Time really flies, coming to and end," "Want to see Luna is other films," and so on.