The second OST (original soundtrack) for KBS Drama cable TV series Glowing She (My Shining Girl) is released on February 29th, 2012.
The Glowing She OST part 2 contains 2 tracks. The first track has the song title of Glowing (자체발광), sang by Raina Oh Hye Rin (레이나 오혜린) of After School (애프터스쿨), featuring Man Sung (만성).
The song tile of Glowing can also be translated as Self Luminous.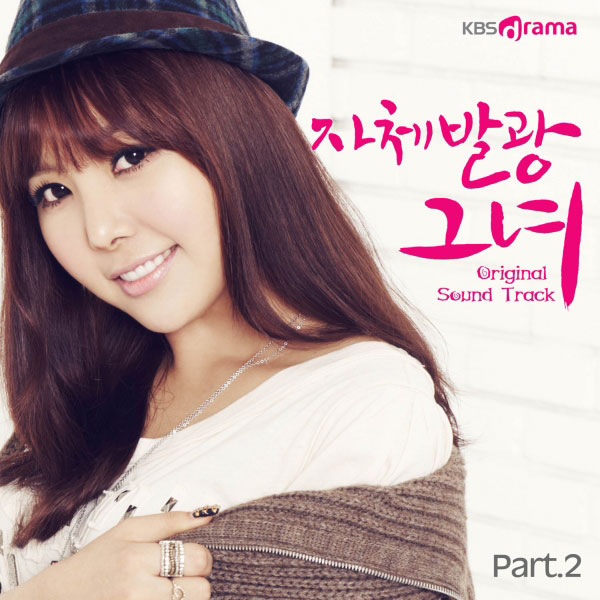 Glowing She (자체발광 그녀) OST Part 2 Track List
Glowing (자체발광) – Raina
Faraway – K2
Listen to Glowing (자체발광) at YouTube, or watch the Glowing (자체발광) music video at YouTube.
Glowing (자체발광) Lyric
Ye I wanna stay with you but love is over 행복해 I'm solo
* 사랑했는데 다 잊었는데 또 다시 내 맘 흔들려
안타까운 사랑에 지쳐버린 날 다시 찾고 싶어
시계는 제자리로 돌아왔는데
오늘도 어제와 똑같은데
반복되는 하루하루가 너무도 낯설어
Everyday for me 날 위한거야
너만 알던 나의 가슴도 모두 가져가
* Repeat
뭐가 어때 난 다 줬는데 왜 뭘 더 어째 내가 웃는 게
이상해 보인데. 너 빼곤 모든 게 그대론데
왜? 나만 슬퍼해야 돼? 님에서 이미 점 찍은 남인데
난 아직 제자리만 돌고 있는데
넌 아직 그때와 똑같은데
네가 없는 하루 하루가 이제는 익숙해
Everyday for me 날 위한 거야
너만 알던 나의 가슴도 모두 가져가
* Repeat
지나간 나의 이별도 다가올 나의 사랑도
모두 없을거야 날 위한 건 오직 나 뿐인 걸
사랑하는데 you fallen to me 이제는 상관 없자나
안타까운 사랑만 재촉해도 난 나만 바라볼래
Glowing (자체발광) Lyric Romanization
Ye I wanna stay with you but love is over haengbo-khae I'm solo
* sarang-hae-nneunde da ijeo-nneunde tto tashi nae mam heundeullyeo
antakka-un sarange jichyeobeorin nal tashi chajko shipeo
shikye-neun jejariro do-rawah-nneunde
oneuldo eojewah ttokgateunde
banbokdwehneun haruharuga neomudo nasseo-reo
Everyday for me nal wiihankeoya
neoman aldeon naye gaseumdo modu kajyeo-ga
* Repeat
mwo-ga eottae nan da jwo-nneunde waeh mwol deo eochae nae-ga unneun ge
isang-hae boinde. neo ppaekon modeun ge keudaeronde
waeh? naman seulpeohaeya dwaeh? nimeseo imi jeom chikeun naminde
nan ajik jejariman dol-ko i-nneunde
neon ajik keuttaewah ttokgateunde
ni-ga eom-neun haru haruga ije-neun iksu-khae
Everyday for me nal wiihan geoya
neoman aldeon naye gaseumdo modu kajyeo-ga
* Repeat
jina-gan naye ibyeoldo da-gaol naye sarangdo
modu eopseul-keoya nal wiihan geon ojing na ppunin geol
sarang-haneunde you fallen to me ije-neun sanggwahn eoptjana
antakka-un sarangman jaecho-khaedo nan naman parabollae
Glowing (자체발광) Lyric English Translation
Yeah I wanna stay with you but love is over, I'm happy I'm solo
* I love you, I forget about it but my heart is shaking again
Me who is exhausted from the sad love wants to find back myself
The clock moves back into place, but
Today looks the same as yesterday
Each repeated day is so strange to me
Every day for me is for me
Take away my heart that used to know only you
* Repeat
What's the matter? I gave you everything, what more you want? How come my smile
Looks strange. Everything does not change except you
Why? I gotta be grieved? I used to be yours but now I'm a stranger
I goes about in the same place
You are still the same as that time
Now I get used to the days without you
Every day for me is for me
Take away my heart that used to know only you
* Repeat
My past paring and my forthcoming love
When there is none of that, the only thing for me is me
I love you, you fallen to me, now it doesn't matter
Even if the sad love urges me, I only want to look at myself