Actress Han Ga In revealed her plan to have children.
On MBC new Wednesday and Thursday drama series The Moon that Embraces the Sun production press conference held on the afternoon of January 2, 2012 at the 63 City building of Yeouido, Seoul, Han Ga In was asked by reporter about her baby plan, and she answered, "Of course will have baby, but because both of us is always working, so always does not have the right time."
Days ago, when the husband of Han Ga In, Yun Jung Hoon was interviewed by Joongang Sports (read Yoon Jung Hoon interview), he said, "My wife suggested that we only consider about having children after we both have filmed a representative work." In this regard, Han Ga In cleverly replied, "I hope that this project is my masterpiece," provoking laughter. In 2005, she married with Yun Jung Hoon who is 4 years older than her, but until now they have no news of a baby, attracting a lot of people's curiosity.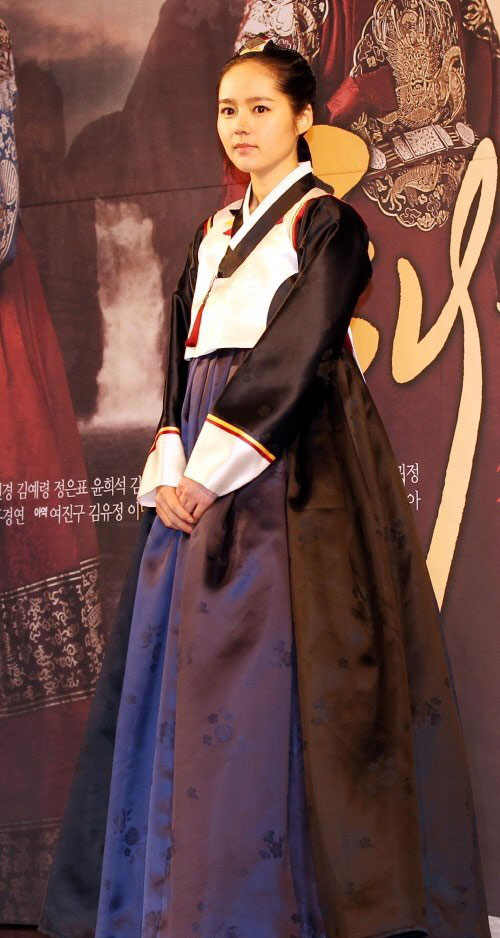 On the day, Han Ga In also revealed the reason of choosing this historical drama as her project to return to small screen after SBS's Bad Guy in 2010. She said, "I feel it's interesting when I first saw the script. Now the script has came out until episode 7, and even me could me help but wondering about the development of the story, keep thinking 'why the script of episode 8 and 9 hasn't came out yet?' This is the genre I personally very want to try," making no secret of expectation inside her heart.
In addition, The Moon that Embraces the Sun is a TV series that been adapter from the same name novel by Jung Eun Gwol, the author of Sungkyunkwan Scandal. It tells the love story of Yeon Woo (Han Ga In) involved in expected incidents after been selected as crown princess to become a witch, and Joseon king Lee Hwon (Kim Soo Hyun). The drama succeeds Me Too, Flower, and is debuting at 9.55 PM on January 4, 2012.
via Joongang Daily