Although very righteous, but he is a prosecutor with a big secret. Turns out he is a blood sucking vampire. Having achieved the highest ratings ever of 4.3% on cable TV history, the well-liked OCN's Vampire Prosecutor, Yun Jung Hoon who perfectly interpreted the theme of the drama series cheerfully said, "Who else can play such as role? I was really happy when filming." And he laughed.
He drank raspberry juice that replaces the blood, and learned Jeet Kune Do for the first time in his life in order to film action scenes, the will to play a variety of roles in future is burning like fire in Yun Jung Hoon
– Not an ordinary role.
"I always wanted to act a character like in the movie 'Pirates of the Caribbean.' I decided to take up the role after reading the outline, so I have great expectation on this role."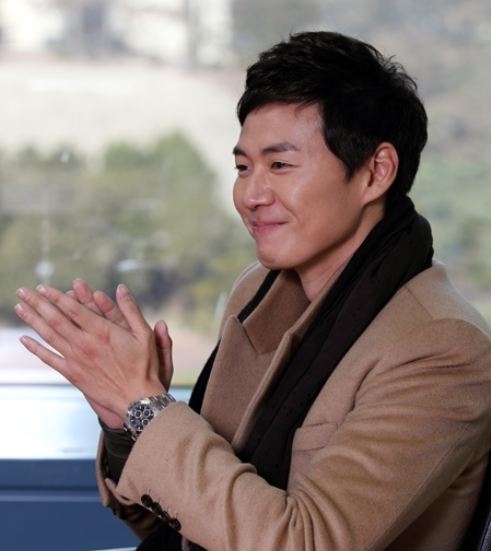 – You drank as much blood as a vampire. To be specific it's undiluted. Very sour. Originally we're supposed to mix it with water in 5 to 1 ratio with more water, but in order for it to look like real blood so I had to drink the undiluted drink. In the later stages I wanted to vomit just by looking at it. That's why I developed the trick to drink it mixing with grape juice. By doing so the color stays the same but the taste is much better."
-The eye line was very visible.
"It's idea proposed by me. As it's a vampire, the expression of eyes should have deeper. So I let makeup artist helped me do it, in the end I regretted. It took very long to draw, and had to retouch it often. My god, I don't understand how woman can draw the eye line everyday."
– The action scenes were also very impressive.
"I purposely learned Jeet Kune Do. I really hate exercising. Because I am the kind of easily develop the muscle with little exercise. Previously I used to lift weight in order to shape the body, and I became like the Incredible Hulk. I was scolded by stylist for not able to suit any clothes, so I choose to practice Pilates."
– Was shocked after watching the exciting and realistic car chase scenes.
"The director was surprised as well. I have a lot of learning opportunity when hosting XTM cable TV program 'Top Gear Korean,' because I personally explained about suspension reaction time, cornering techniques and other major performance. I used these knowledge in this drama. It's not the best as it's just a normal car, but everyone on the scene got a kick out of it."
– Ah, what happened to the stolen Porsche?
"Still in litigation. The car was stolen while in the custody of an auto repair shop in June 2010, after a year it was found in front of a police station. It felt very absurd, if want to talk about all the troubles during the period as it will be endless. I just want to find it back quickly."
– The drama has ended, what's your plan for baby?
"This time it's my wife's turn to be busy. We'll think about it after she finishes filming the drama "The Moon That Embraced The Sun" and the movie "An Introduction to Architecture" next year. Actually I really like kid, but because of suggestion of Han Ga In that 'now is not the time yet, after having a true representative work then only consider about baby,' so the baby plan keeps delaying. But we'll seriously consider when she is done with filming."
– Seems like you heed what Han Ga In is saying.
"I'm a family oriented husband. Mopping and vacuuming are my responsibility. The rumor of we're not getting along well is always circulating, but we are living well. May be it's because we got married at relative young age, so we don't specially let others know that we're married, his may seemed strange to others. Right, there were only 2 times we attended public events hand-in-hand. Although my mood is not good when the rumor that we're not get along well circulates, but I don't think of purposely emphasizing our married status."
– It's said that you have a curfew.
"Yes I do. I have to be home by 12 midnight. I'm Cinderella. She can sleep first, but she always detestably wait for me with both eyes wide open. She says she fears sleeping alone."
– What's the future plans?
"My wife is very busy right now, so I will firstly do some houseworks, haha. I'll be considering the next project, still want to continue acting, other than acting, what else an actor can do?"
via Joongang Daily