"Perhaps because of the blessing of the name of Mugunghwa, now I receive a lot of caring," said Han Hye Rin on early January 2012.
Because of starring in KBS2 daily drama series My One and Only (Only You), actress Han Hye Rin has been well received by many audiences.
Debuted for 4 years, she who becomes a heroine for the first time, truly comes to understand the rise of her popularity, is happy.
During the interview with media reporter, Han Hye Rin said, "The audience of mother's generation really likes me. Recently I went to the hospital for shooting, the patients forgot the pain when they saw me, unanimously applauded for me, deeply touched me. Seeing such a scene, I only realized that in fact there are so many people who is paying attention to our series. It has allowed me to have a sense of responsibility to play well the role of Mugunghwa."
Mugunghwa is wealthy daughter who has no sense, and this is completely opposite with the tradition of KBS1 daily drama where the heroine is always a female who suffers from hardship but is tough. The Mugunghwa in My One and Only, although is not sensible, but has received good family education, grew up in carefree and simple environment, and this is different from image of other spoiled daughters.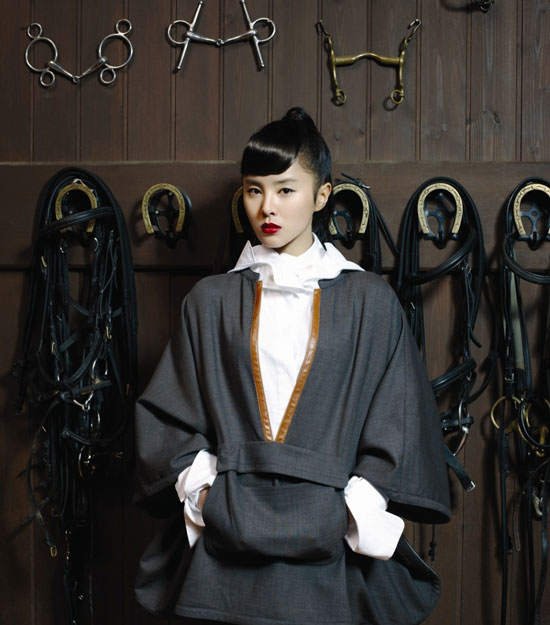 As such, Mugunghwa played by Han Hye Rin is not only has a beautiful face, but an even more beautiful soul. May be it's really for this reason, she embodies the sense of fashion that will always attract the attention of young people, as well as her role can always won her the liking of the middle-aged layer.
"Both naivety and has some nobility, this kind of character is indeed attractive. Always wanted to meet the challenges through own strength, definitely not weak. Originally role is called as just 'Mugunghwa,' but because there is no last name of 'mu,' so added the 'na' as the surname. Until the end, scriptwriter does not want to give up on the name of Mugunghwa. But also because of this, the name and character can be well loved."
My One and Only tells the story of Mugunghwa encounters Ki Woon Chan (played by Seo Joon Yoon) who has nothing else apart from 880,000 won, and together with him gone through many difficulties to truly mature and grow up. The viewership ratings for the drama has exceeded 20%, very successful.
Han Hye Rin said, "Although felt the popularity of the drama, but I strive to make sure myself not bat an eyelid. Before the role was confirmed, really spent a lot of effort. The competition in the audition was fierce, and time to wait for the result was long, initially I had thought that I had not been casted. But when I heard I was casted for this role, I shed tears because of happiness for the first time in my life. Because opportunity is hard to come by, I only think of performing well. Now the popularity is in fact not important, if focus on popularity, then what if there is a mistake in future? I will work hard till the end with good acting skill." Therefore, from beginning to end, she has been filming nervously everywhere, of course, her acting is good.
"Seeing me sleep holding the script, my mother said, never seen me so hardworking even when going to school. No forcing, but myself really likes it, so that's why. When finishing the shooting and going back home, I am tired like breaking the waist, but, the sense of accomplishment which I get is even more. I hope that comparing with Han Hye Rin, people can accept Mugunghwa herself."
Han Hye Rin started her acting journey as supporting actress by chance in 2007. And then because of starring in a supporting role, she enrolled in Performing Arts Department of Dongkuk University.
I used to star in The Lawyers of The Great Republic Korea and General Hospital 2 in supporting roles, and later become famous through SBS TV's New Tales of Gisaeng by playing the role of Geum Ra Ra in 2011.
To me, New Tales of Gisaeng is a drama which I very appreciated, it solidified my dream of becoming an actress, also let me understood even more deeper about actor. More importantly, I understand enthusiasm and sincerity required by an actor. Geum Ra Ra was the role I officially played for the first time, the viewership ratings of the drama that exceeded 20% has significant meaning for me."
Han Hye Rin said that in the past 4 years, she did not has the slightest slack along the way. "Although some people said I am 'Cinderella, but I do not think so. After debut, I am always striving along the way, the past was like a movie, flashing through mind, in the process of screen test and audition, in order to develop better, I always give myself encouragement. Even if always acting in supporting role, I never rest. Perhaps it is the right rhythm that I can get the current result, and can end up with the role of Mugunghwa."
She also said, "I want to be actress who can bring hope to audience. Audience can happy looking at my acting, or even get inspiration from my acting, to me, it's very meaningful."
via Asiae