The lead actress of SBS Korean drama "Rooftop Prince", Han Ji Min, graces the cover of May edition of CeCi magazine in South Korea and China as cover star. Here's the English translation of Han Ji Min in CeCi magazine. For more pictorials from the magazine, visit here.
Leave a smiling face to love
From the debut on screen with the title of "little girl version Song Hye Kyo", to become well known through medical lady Shin Bi in "Dae Jang Geum", then to lead actress of big productions of various major South Korean TV stations, and won many awards, she uses smile and gratitude to walk a step by step. Actress Han Ji Min has debuted for 10 years, and the image in the heart of viewers is growing abundance. In her, not only luckiness is found. Han Ji Min who always thinks that she is not a 'born actress', has challenged various different roles and honed her tough character in order to further upgrade her acting skills. Even if affairs of human life are complicated, but she is not losing the optimism and kindness in the heart.
Monolog of Han Ji Min
This year is the tenth year since I debuted as actress, I am glad the I didn't receive the attention like a myriad of stars surround the moon from the outset, but walked to today step by step steadily. Otherwise, without any preparation, committed a big mistake, maybe given up long since. Now think about it, really glad that I did not give up at that time, but stick to progress bit by bit, to be able to won the recognition and love of public today. I am grateful to these works.
When began to act, sometimes there will be pressure. When filming, also carry an uneasy heart, always thinking, "Whether to let it be, or to shoot one to make myself satisfied with the results?" You could say that this is a showing of at a loss and blank, but personally I think this is a progressive process. I treat work very hard and seriously, until now, I keep thinking, so often feel frustrated. Once, in a work there was only a scene which myself satisfied with, this become the standard when I challenge other projects.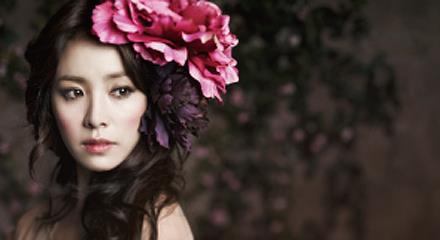 Ceci: Your new drama "Rooftop Prince" recently ranked top for the first time in viewership ratings ranking chart.
Han Ji Min: This is a very lucky, now there is no drama that can be the champion, completely crushing other dramas. The TV series of 3 TV stations that broadcast at the same time are very interesting, this competition also made everyone works harder.
Ceci: What's your feeling when learned that Park Yoo Chun will co-star with you?
Han Ji Min: "Rooftop Prince" is a time traveling drama which alternating between present and the past. At that time I felt that he is very suitable for this role. I watched and impressed with "Sungkyunkwan Scandal" starring Micky Yoochun. So the casting of him as my opponent play raised my anticipation for the drama. Previously I also had prejudice against idol singers, but after watching their performance, I change my mind. Now, the focus of Yoochun when performing, is in no way inferior to the professional actors, and even better than many professional actors.
Ceci: In this drama, the actors partnering with you are all smaller than you, what's the differences in the atmosphere on the filming scene?
Han Ji Min: Mainly at the filming set, as a senior, I have to strive to lead everyone to concentrate on filming. When starring in "Padam Padam: The Sound of His and Her Heartbeats", it was senior Jung Woo Sung who played this role. At that time, I only felt that been a senior, there is a lot of things to do. Looking back now, I feel very grateful, because only after I become senior myself, only realized that it is really not easy.
Ceci: Generally in the Korean TV drama, the lovely heroine is always the poor girl who is being bullied continuously. Park Ha is not the case, so it looks very interesting.
Han Ji Min: Isn't it? The plot of "Rooftop Prince" progresses rapidly, after Park Ha recovers her memory, the countermeasure she took is not in poor taste, so viewers enjoy it very much. We all feel that the Park Ha is not patient blindly, more creative. The role of Park Ha actually does not have anything particularly funny, because Crown Prince and other threes will naturally in charge of the funny part. So Park Ha just need to grab the bulls by its horns, steady the core."
Ceci: How similar is Park Ha with Han Ji Min?
Han Ji Min: About 99%? Many people said even our tone of speaking is the same.
Ceci: I thought your character is very quiet…
Han Ji Min: I used to be very quiet, but now the character slowly changed. I was well behaved as a child, seldom spoke, not speech, very lively at the time of puberty. After debuted as an actress, the character became very hesitant, because always felt that I still have a lot of places that can be improved, and also couldn't treated the staff crews as a family. Only until after I starred in a lot of films, then I only realized, if the lead actress can shoot happily, the atmosphere of the whole set will become better. So now I also strive to become even more lively. When filming "Resurrection", the director told me to remember the names of all people on the set, not only actors, but also all the staffs. This became the opportunity for me to start paying attention to people around, because my personality was originally needing a long time to become familiar with the unfamiliar environment, it's like that at shooting scene. Thanks to the director, for the first time I felt that the production team is like one big family. At home, I will be very lively, I who is the youngest also used to organize a family trip, will also make the atmosphere lively.
Ceci: Which part of "Rooftop Prince" you hope the audience can pay more attention to?
Han Ji Min: I hope that our performances will bring laughter to the audience, relieving the pressure. In fact, there are tense moments in the drama, but beyond tension, it also provoked laughter. Perhaps this is the greatest charm of this drama.
Ceci: You're like a moon surrounded by a myriad of stars, do you feel pressure?
Han Ji Min: Burden? My personality used to be very easily put on pressure on myself, but since it already began, it's useless to have burden. In "Rooftop Prince", what's most important is how to let the foursome gang from Joseon Dynasty to breath in synchronize with me, cooperate in harmony. In addition, everybody is working hard together, so I don't have any special sense of burden.
Ceci: From Han Kaek Ju in the movie "Detective K: Secret of the Virtuous Widow" to Jung Ji Na in drama "Padam Padam", then to Park Ha" drama "Rooftop Prince, what you have presented to audience is highly three-dimensional image. You seem to no longer entangled about the role played, and can accept and face more frankly.
Han Ji Min: As long as is the actor, will definitely entangle about the variety of the characters. In one sense, Han Kaek Ju is a very interesting role. To be honest, previously I still have quite a psychological burden to nude scene, but slowly relaxing the limit that is acceptable to me. If it was a few years ago, I certainly wouldn't accepted this role. But I met the movie of "Detective K: Secret of the Virtuous Widow" at the right time, this is a drama which I have the same taste with director, and cooperated handily with co-starring actors. I just want to break through the boundary of my acting through a film. Similarly, TV series "Padam Padam" also made me understood a lot of things. For me, all the works are a learning opportunity, accumulating experience through own practice.
Ceci: The original screenplay of "Padam Padam" written by Noh Hee Kyung has been receiving a lot of praise, then is this drama also left a deep impression in your heart?
Han Ji Min: Because having to work on new drama instantly, so there isn't much time to enjoy its aftertaste, but it was really the most perfect one among all works I starred in. At that time, we had plenty of time to read through the script, and to understand the role, and the communication with the director was also the most. Because "Padam Padam" is a traditional romantic series, so a lot of time had to focus on every line, but also learned a lot of things. Now the opponent play with Se Na (Jung Yoo Mi) in "Rooftop Prince", many of which benefited from the help of "Padam Padam", so I can more easily manage the role.
Ceci: In "Padam Padam", the lead male and female character interpreted the love of breaking through the adversity. When you got away from this kind of love, did you find it very hard?
Han Ji Min: I have made every effort to come out. Although some actors will immerse deep in the film for a long time, but I am the kind that subconsciously get back to daily life as soon as possible. Because if not so, it will be painful after the end of each films. I decided to star in "Rooftop Prince" also because that Ji Na is a role that experienced too much suffering. I want to become Park Ha as soon as possible, laughing happily and heartily.
Ceci: Debuted for 10 years. It's time to say the reason for choosing the acting.
Han Ji Min: Acting itself is my profession, if you always want to give it a reason or meaning, then ends up there will be pressure. Not long ago, I met the photographer that I used to cooperate with in TV series "All In". When chit chatting with him, I realized for the first time that I have indeed debuted for 10 years. In this 10 years, I didn't rose to fame and received attention suddenly, but progressed step by step in down to earth style, slowly accepted and loved by public, this is very lucky.
Ceci: Remember you once said that every moment has to be happy, and comply with own acting rules while acting. Then, do you happy now?
Han Ji Min: After receiving the interview outline, I signed with emotion, 'I used to say these words, but recently this kid of mood has gone.' In life, I always eager to get the things I didn't have, and forget the happiness which I owned. Quite a while, I really wanted to play the role like Park Ha. After receiving the interview outline, I found that: I can play this role now, this is a very happy thing. Today, also very happy.
via Ceci