Well-deserved reputation – this is the assessment for Han Suk-Kyu who returns to the TV screen for the first time after 16 years. Han Suk-Kyu is starring in the role of King Sejong in SBS Wednesday and Thursday TV series Deep Rooted Tree. Deep Rooted Tree drama is adapted from historical mystery novel of the same name by Lee Jeong Myeong, describing the serial killings of scholars in Hall of Worthies in the seven days leading to the day of issuance of "Hunminjeongeum." The drama currently has ratings approaching 20%.
On the evening October 21st, 2011, Han Suk-Kyu accepted the telephone interview by Chosun Media while in filming, during the interview he has maintained his unique hearty laughter. Han Suk Kyu said, "Haha, because of ratings, is very proud. Very appreciate the viewers. Thanks to the director and excellent original work, there is a all new King Sejong."
King Sejong played by Han Suk Kyu is quite different from King Sejong we normally understand. It's not the perfect image of monarch the usually appear in the biography of great men, but a "flawed" saint who was tired of all the red tape, and had plenty of discontent. And even said foul words like "madman" and etc, and in order to study farming, personally participate in fertilization.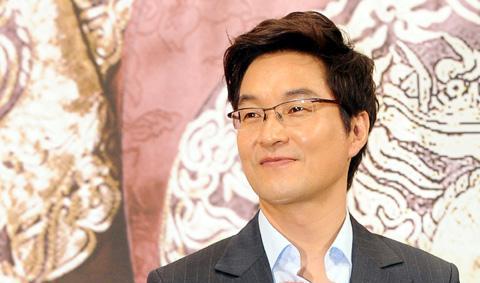 All these may be accused to be over-acting, but it's not been rejected by the viewers, thanks to natural and fine acting by Han Suk Kyu.
Han Suk Kyu said, "The character of King Sejong is familiar with too many people, and has a fixed concept by too many people too. Hope to interpret an alternative kind of King Sejong. King Sejong is also a human being, but in order to become a perfect King Sejong we know about, he had to pay how much, I have thought about it a lot. King Sejong family history was complex, and because of repression by his father (King Taejong), has also suffered serious psychological trauma."
Han Suk Kyu said, "Not dare to play historical figure before age of 40, but may be now has ready for it, so very interested in historical drama. Actually, the image of King Sejong described by writer in the script, who is soliloquize, dissatisfy on everything, and speak foul words occasionally, is just the same with me at the shooting scene."
This is the return of Han Suk Kyu to TV drama scene 16 years after 1995's drama Hotel. He gained fame through 1993's Pilot and 1994's The Moon of Seoul, and had later active in movie circle. He used to star in "The Contact," "Shiri" and other classic films in the history of Korea. Han Suk Kyu said, "Deliberately to act only in movie is my hope. When about to finish filming of "Green Fish" in 1997, I had a thought to transform Korea's movie. Haha, aren't France and USA have new wave era, new movie era? So I also wanted to create a new era for Korea's film, want to challenge through movie."
However, 3 years after "Shiri", the selected "Double Agent" in 2003 did not have good reputation, and Han Suk Kyu was in long term slump. During this period, not only the activities for the works was very little, but the performance in the works was not as good as before too. So, naturally there was argument that "Han Suk Kyu's era has passed." Han Suk Kyu said, "The era of Han Suk Kyu has long passed. This is life. Haha, the view of fans is correct, because they look at me objectively. That is right. I myself has constantly thinking about the acting, also also thinking about to what extent I can do it. Sometimes I feel, my acting is just for viewers to see."
Han Suk Kyu said that he has no regret and blame. He said: "I am a actor with great blessing. I am doing what I want to do, and usually on the stage that I want. In addition, always acted in leading role for the past 20 years, for an actor this is a great blessing, so cannot say such words once facing with little difficult."
He continued, "I eliminated the pressure of returning to TV screen through Deep Rooted Tree. Because of great pressure (on returning), it's very difficult to take the first step. Now has issued the signal flare, soin future there won't be such pressure. If possible, I would like to act in many different roles, which has always been the case. Through different roles, can realize the dream during youthful time with the old that gradually becomes old."
He said: "Acting is just like a woman I crush with. Very annoying, and sometimes wonder why such a pain, but I still hope that the woman will not go astray, just to let her become more pure. In the future, when there is the need to put down the woman, I would say to her, 'Oh, go,' and forget everything in an instant."
via chosun.com