On the occasion to celebrate the Spring Festival, Son Dam Bi (28 years old) and Ahn Jae Wook (40 years old) were sending New Year greetings.
On January 16th, 2012, Son Dam Bi upload two photos on her microblogging Twitter account, and wrote, "Wish everybody a happy new year ~♥ fall in love with self-camera together with brother Jae Wook, haha." In the photo, Son Dam Bi is wearing jade-green hanbok, standing together with Ahn Jae Wook who is wearing pink hanbok. The look of them that resembles bride and groom attracted everyone's close attention.
Netizens commented, "Son Dam Bi is beautiful no matter what she wears," "Very much like a newly married couple," "Is this belated New Year wishes?" and so on.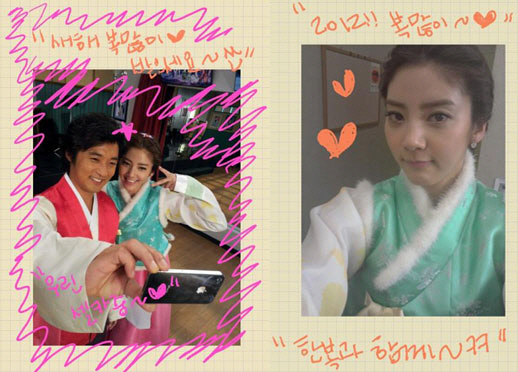 Ahn Jae Wook and Son Dam Bi are starring in MBC Monday and Tuesday drama Lights and Shadows.
via Ilgan Sports