The forth OST for KBS2 TV series Wild Romance is released on January 30th, 2012. Wild Romance OST Part 4 contains a song with the title of "Hello, Love."
The song of Hello, Love is sang by Korean female solo singer, J-Min (제이민).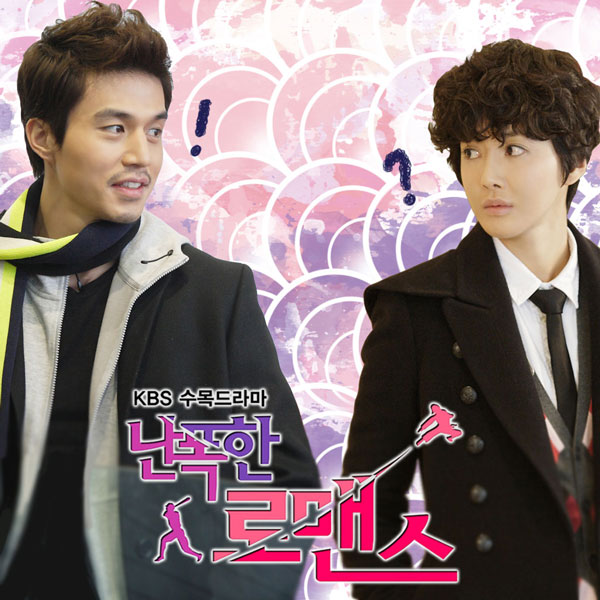 Wild Romance (난폭한 로맨스) OST Part 4 Track List
Hello, Love – J-Min
Hello, Love – Instrumental
Listen to Hello, Love at YouTube.
Hello, Love Lyric
들리니 두근거리는 이 마음을
나를 닮은 향기 맡으며 내 눈빛을 내 숨소릴 느껴봐
떨려와 너만 바라봐도 좋아
마치 운명 같은 몸짓, 그 몸짓 속에 나를 맡겨 행복해
네 품에 안기면 그만 정신을 잃을 것 같아
은근히 미소를 지어보네
내가 왜 이러는지 몰라 왜 이렇게 좋을까
속전 속결 너를 갖고 싶은 난 마치 뭐에 홀렸나봐
어쩌면 운명인지 몰라 내가 널 책임질게
나는 가끔 너와 함께 사는 그 엉뚱한
상상 속에 널 갖곤해 난 너의 여자야
떨려와 너만 바라봐도 좋아
마치 운명 같은 몸짓 그 몸짓 속에 나를 맡겨 행복해
네 품에 안기면 그만 정신을 잃을 것 같아
은근히 미소를 지어보네
내가 왜 이러는지 몰라 왜 이렇게 좋을까
속전 속결 너를 갖고 싶은 난 마치 뭐에 홀렸나봐
어쩌면 운명인지 몰라 내가 널 책임질게
나는 가끔 너와 함께 사는 그 엉뚱한
상상 속에 널 갖곤해 난 너의 여자야
멋쩍은척 하지마 하루에 한번씩
사랑한다 말해줄래
내가 왜 이러는지 몰라 왜 이렇게 좋을까
속전 속결 너를 갖고 싶은 난 마치 뭐에 홀렸나봐
어쩌면 운명인지 몰라 내가 널 책임질게
나는 가끔 너와 함께 사는 그 엉뚱한
상상 속에 널 갖곤해 난 너의 여자야
Hello, Love Lyric Romanization
teu-llini dugeunkeorineun i ma-eumeul
nareul talmeun hyanggi mateumyeo nae nunbiteul nae sumsoril neukkyeobwah
tteollyeowah neoman barabwahdo chowa
machi un-myeong gateun momjis, keu momjis so-ge nareul mat-kyeo haengbo-khae
ne pume angimyeon geuman jeongshineurirheul keot kata
eunkeunhi misoreul jiyeobone
nae-ga waeh ireoneunji molla waeh ireohke choheul-kka
sokjeon sokkyeol neoreul kajko shipeun nan machi mwoe hollyeo-nnabwah
eocheomyeon un-myeon-ginji molla nae-ga neol chaegimjil-ke
naneun gakkeum neowah hamkke saneun geu eongttung-han
sangsang so-ge neol kajkonhae nan neoye yeojaya
tteollyeowah neoman barabwahdo chowa
machi un-myeong gateun momjis keu momjis so-ge nareul mat-kyeo haengbo-khae
ne pume angimyeon geuman jeongshineurirheul keot kata
eunkeunhi misoreul jiyeobone
nae-ga waeh ireoneunji molla waeh ireohke choheul-kka
sokjeon sokkyeol neoreul kajko shipeun nan machi mwoe hollyeo-nnabwah
eocheomyeon un-myeon-ginji molla nae-ga neol chaegimjil-ke
naneun gakkeum neowah hamkke saneun geu eongttung-han
sangsang so-ge neol kajkonhae nan neoye yeojaya
meotcheo-geun-cheok hajima harue hanbeonsshik
sarang-handa marhaeju-llae
nae-ga waeh ireoneunji molla waeh ireohke choheul-kka
sokjeon sokkyeol neoreul kajko shipeun nan machi mwoe hollyeo-nnabwah
eocheomyeon un-myeon-ginji molla nae-ga neol chaegimjil-ke
naneun gakkeum neowah hamkke saneun geu eongttung-han
sangsang so-ge neol kajkonhae nan neoye yeojaya
Hello, Love Lyric English Translation
Can you hear my pounding heart?
Smell the scent that resembles me, feel my eyes, my breath
I tremble, just by looking at you makes me feel good
The gestures are like fate, I entrust myself in the gestures, and I am happy
When I am in your embrace, it feels like I lost my mind
I gently smile
I don't know why I'm doing this, why do I like you so much
I want you so bad so quickly as if I am possessed
This may be destiny, letting me take responsibility of you
Sometimes, I unrealistically dream about live together with you
I am your girl even in imagination
I tremble, just by looking at you makes me feel good
The gestures are like fate, I entrust myself in the gestures, and I am happy
When I am in your embrace, it feels like I lost my mind
I gently smile
I don't know why I'm doing this, why do I like you so much
I want you so bad so quickly as if I am possessed
This may be destiny, letting me take responsibility of you
Sometimes, I unrealistically dream about live together with you
I am your girl even in imagination
Don't pretend to be embarrassed, once a day
Please tell me you love me
I don't know why I'm doing this, why do I like you so much
I want you so bad so quickly as if I am possessed
This may be destiny, letting me take responsibility of you
Sometimes, I unrealistically dream about live together with you
I am your girl even in imagination