The lead actors of MBC drama "I Do, I Do" starring Kim Sun Ah have been crowned with interesting nickname, becoming another major attraction of the drama. In particular, the strong woman Kim Sun Ah is called "menopause Ji An" and "Medusa", making the audience could not help but laugh.
Who feel more humiliated? "Menopause" Ji An (Kim Sun Ah) vs "Mummy" Jo In Sung (Park Gun Hyung)
Super woman Kim Sun Ah who possesses both ability and outlook issues a strong declaration that she is entering menopause on her first date, leaving deep impression to "candy man" Park Gun Hyung, and saves the name of Ji An in mobile phone as "menopause Ji An." And Park Gun Hyung also earned the lovely nickname of "mummy Eun Sung" as he always says he's
"mummy's boy" during the meeting.
Who is dragging feet man? "Parachute" Park Tae Kang (Lee Jang Woo) vs "old age snow" Seol Bong Soo (Jo Hee Bong)
The rumor that Lee Jang Woo joined the company by relying on Kim Sun Ah made him earned a nickname, "parachute," and is recognized as a big company's burden. And the funny "old age snow" Seol Bong Soo become his partner. Although Jo Hee Bong has joined the company for 15 years, but he remains at the position of agent, and thus was nicknamed by the staffs as eternity agent "eternity Seol."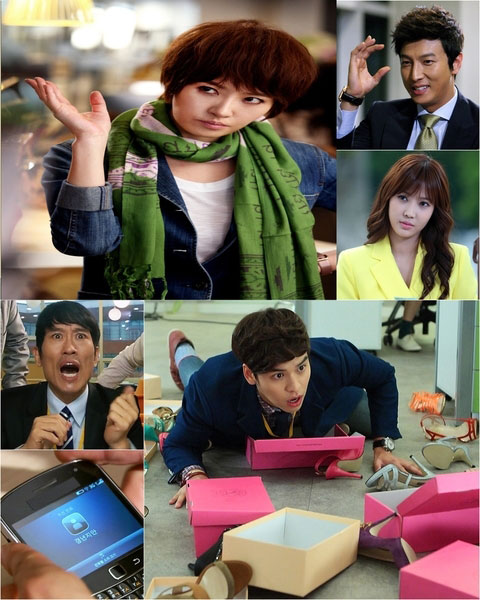 The most powerful person! "Medusa" Hwang Ji An (Kim Sun Ah) vs "Ice princess" Yeom Na Ri (Lim Soo Hwang)
The staffs of the company will turn as stiff as a stone when seeing the cold eyes of Kim Sun Ah, and therefore Kim Sun Ah is given the moniker of "Medusa. The arrogant and cold daughter of president, Lim Soo Hyang, is known as the "ice princess." The cold war of "ice princess" and "Medusa" which sparks are flying has been attracting the attention of the audience.
The interesting nicknames attracted enthusiastic responses from netizens. They said, "Menopause Ji An is hilarious!" "The nicknames perfectly match with the plot," "Menopause Ji An vs mummy Eun Sung, Medusa vs parachute, very interesting!" "Nicknames gave by the writer can be described as the highest level!" and so on.