The perfect abdominal muscles of Jung Woo Sung and Kim Beom are exposed, making many female viewers moved their hearts.
On the premiere episode of Padam Padam… The Sound of His and Her Heartbeats broadcast of December 5th, 2011, the photos of two persons with nude upper body are made public. In the photos, Jung Woo Sung who plays the leading role of Yang Kang Chil is full of manly charm, while Kim Beom who plays the role of Lee Gook Soo shows stark contract between his innocent appearance and firm abdominal muscles, revealing an opposite charm.
Age does not leave any mark on the body of Jung Woo Sung, letting many fans and netizens sigh endlessly. And Kim Bum also dedicated himself to the drama, successfully reduced 11kg to appear in front of viewers with a even more succinct and healthy appearance.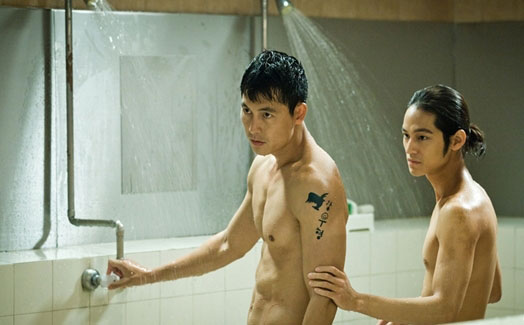 "Param Param" tells the story between Yang Kang Chil who bears the murder charge and be in jail for 16 years, pragmatic selfish Jung Ji Na (played by Han Ji Min) and Lee Gook Soo who protects the fate of both persons.