The third OST (original sound track) for Channel A drama series Color of Woman is released on February 15th, 2012.
The Color of Woman OST part 3 includes a song with the title of I Don't Like Myself (이런 내가 싫다).
I Don't Like Myself is song collaborated by groups Wanted and BoM. The song is sang by Lee Ji Soo (이지수) of the new group BoM and written by the sing-a-song-writer Kim Jae-Seok, who is currently performing for Wanted's 3rd album (Vintage). Lee Ji-Soo's melancholy voice adds to the sorrow of the song.
The song has been perfected with the acoustic guitar which starts out by setting the sad tone for the song, the mellow piano tunes of the pianist AEV who was the joint composer for the song, and Lee Ji-Soo's detailed voice. The lyrics are heartbreaking as it expresses the heart unable to forget a past lover, having to give up everything since there is nothing one can do.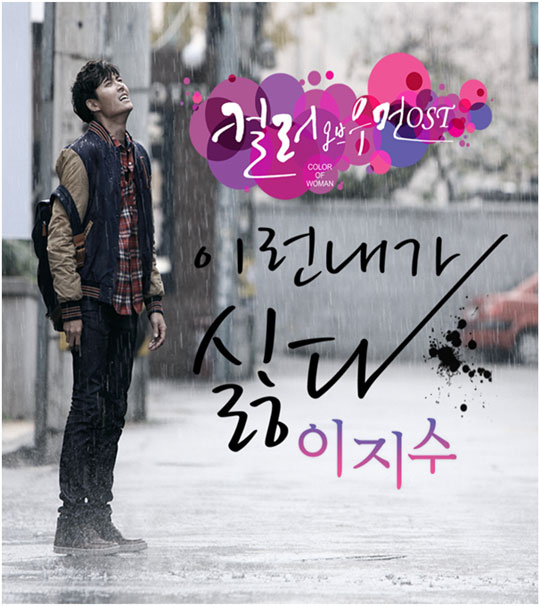 Color of Woman (컬러 오브 우먼) OST Part 3 Track List
I Don't Like Myself (이런 내가 싫다) – Lee Ji Soo
I Don't Like Myself (이런 내가 싫다) – Instrumental
I Don't Like Myself (이런 내가 싫다) Official MV
I Don't Like Myself (이런 내가 싫다) Lyric
흔들리는 널 보면서도 난 잡지 못했어
너를 위한 일이라고 믿고 싶었는데
이기적인 내 맘 때문에 혹시라도 불행해 질까 봐
무너져버린 내 가슴조차 볼 수 없게 점점 멀어져 버린 나였는데
희미해진 네 얼굴 (보고 싶다)
내 눈물에 가려서
지워보려 애를 써봐도 언제나 결국 또 다시 난 그 자리에
가슴은 널 찾아 헤매는데 왜 자꾸만 엇갈리는 건지
이젠 나란 사람 잊은 거니
아직도 난 그대로인데 여기 있는데
희미해진 네 얼굴 (보고 싶다)
내 가슴에 맺혀서
지워보려 애를 써봐도 언제나 결국 또 다시 난 그 자리에
이런 나를 알잖아 이렇게 떠나지마
날 위한단 네 말 다 알아 거짓말이란 거
얼마나 얼마나 나 울고 또 울어야
널 잊을 수 있을까
희미해진 네 얼굴 (보고 싶다)
내 눈물에 가려서
지워보려 애를 써봐도 언제나 결국 또 다시 난 그 자리에
I Don't Like Myself (이런 내가 싫다) Lyric Romanization
heunteu-llineun neol bomyeonseodo nan jab-ji mothaesseo
neoreul wiihan ilira-go midko shipeo-nneunde
igijeo-gin nae mam ttae-mune hokshirado burhaeng-hae jil-kka bwah
muneojyeobeorin nae gaseumjocha bol su eopt-ke cheomcheom meo-reojyeo beorin nayeo-nneunde
hyimihaejin ne eol-kul (bogo shipda)
nae nun-mu-re karyeoseo
jiwoboryeo aereul sseobwahdo eonjena kyeol-kuk tto tashi nan geu jarie
gaseumeun neol chaja hemae-neunde waeh jakkuman eotkallineun geonji
ijen naran saram ijeun geoni
ajikdo nan geudaeroinde yeo-gi i-nneunde
hyimihaejin ne eol-kul (bogo shipda)
nae gaseume maejhyeoseo
jiwoboryeo aereul sseobwahdo eonjena kyeol-kuk tto tashi nan geu jarie
ireon nareural-janha ireohke tteonajima
nal wiihandan ne mal da ara keojinmariran geo
eolmana eolmana na ul-ko tto u-reoya
neol ijeul su isseul-kka
hyimihaejin ne eol-kul (bogo shipda)
nae nun-mu-re karyeoseo
jiwoboryeo aereul sseobwahdo eonjena kyeol-kuk tto tashi nan geu jarie
I Don't Like Myself (이런 내가 싫다) Lyric English Translation
Even if I look at the shaky you, I can't grab you
I want to believe it's for you
I afraid that you will become unhappy because of my selfish heart
Cannot even see my caved heart, gradually moving away
Your blurred face (I miss)
Obscure in my tears
Even if I try to erase it, but I always back in place
My heart is still looking for you, but why we never interwined?
Have you forgotten me now?
Even if I am still the same here
Your blurred face (I miss)
Obscure in my tears
Even if I try to erase it, but I always back in place
You know it, do you leave me like this
I know you're for my good, also know it's a lie
How much how long I have to cry
I could not forget
Your blurred face (I miss)
Obscure in my tears
Even if I try to erase it, but I always back in place