The look of Shin Ha Kyun and Cha Seung Won in a MV (music video) shot 12 years ago revealed.
On January 3rd, 2012, on a bulletin board, a thread was posted with the title of "ancestor of Position", along with photos.
The photo published is the scenes from MV of I Love You MV sang by Position (포지션) from year 2000 which Shin Ha Kyun (with the fame of Brain) and Cha Seung Won cooperated, revealing the short-tempered past of Cha Seung Won and Shin Ha Kyun in the MV, and also their naiveté rookie image.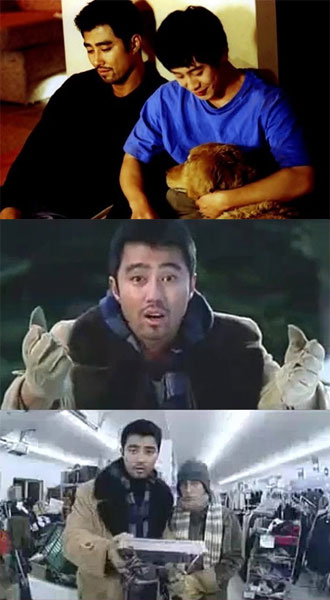 Here's some information on the song of I Love You:
The song of I Love You sang by Position is a remade from original song by Japanese singer Yutaka Ozaki. It's recorded in his studio album titled "I Love You…" released on December 28th, 2000.
Watch the I Love You MV featuring Shin Ha Kyun and Cha Seung Won, together with listening to a nice song on YouTube (or the version with English subtitle). A shorter song-only live concert version of Korean version of I Love You is also available on YouTube.
I Love You Lyric (with Romanization Pronunciation)
I love you 사랑한다는
I love you salanghandaneun
이말밖에는 해줄 말이 없네요
imalbakk-eneun haejul mal-i eobsneyo
I love you 의미 없는 말이 됐지만 사랑해요
I love you uimi eobsneun mal-i dwaessjiman salanghaeyo
이제와서 무슨 소용 있겠어요
ijewaseo museun soyong issgess-eoyo
다신 볼 수 없는 이별인데
dasin bol su eobsneun ibyeol-inde
돌이킬 수 없는 걸 잘 알고 있지만
dol-ikil su eobsneun geol jal algo issjiman
어떻게든 그대 잡아 두고 싶은걸
eotteohgedeun geudae jab-a dugo sip-eungeol
우~우~우~
u~u~u~
이세상 아니라도 언젠가
isesang anilado eonjenga
우리다시 만날텐데
ulidasi mannaltende
눈물 한방울도 보여선 안되겠죠
nunmul hanbang-uldo boyeoseon andoegessjyo
사랑에 빠지게 만들었던
salang-e ppajige mandeul-eossdeon
미소로 날 떠나요
misolo nal tteonayo
그 미소 하나로 언제라도
geu miso hanalo eonjelado
그대를 찾아낼 수 있게
geudaeleul chaj-anael su issge
I love you 기억하나요
I love you gieoghanayo
처음 그대에게 느낀 떨림
cheoeum geudaeege neukkin tteollim
I love you 오랜후에서야
I love you olaenhueseoya
내게 해준 그대 한마디
naege haejun geudae hanmadi
우리사랑 안될거라 생각했죠
ulisalang andoelgeola saeng-gaghaessjyo
너무나도 아름다웠기에
neomunado aleumdawossgie
돌아서려 했었던 내 앞에 그대는
dol-aseolyeo haess-eossdeon nae ap-e geudaeneun
꿈만같은 사랑으로 다가 왔었죠
kkummangat-eun salang-eulo daga wass-eossjyo
우~우~우~
u~u~u~
이세상 아니라도
isesang anilado
언젠가 우리다시 만날텐데
eonjenga ulidasi mannaltende
눈물 한방울도 보여선 안되겠죠
nunmul hanbang-uldo boyeoseon andoegessjyo
사랑에 빠지게 만들었던
salang-e ppajige mandeul-eossdeon
미소로 날 떠나요
misolo nal tteonayo
그 미소 하나로 언제라도
geu miso hanalo eonjelado
그대를 찾아낼 수 있게
geudaeleul chaj-anael su issge
언젠가 우리 다시 만나면
eonjenga uli dasi mannamyeon
약속 하나만 해요
yagsog hanaman haeyo
이렇게 아프게
ileohge apeuge
너무 쉽게 헤어질 사랑하진 마요
neomu swibge heeojil salanghajin mayo
I Love You Korean Lyric English Translation
I love you, I have no more to say except this, I love you
I love you, though the phrase is meaningless to you now
What use is there now
It's a parting that we will never see each other again
I know we cannot go back to the past
But I want you to be by my side by all means
Woo~Hoo~Hoo~
Even if it's not at this world
We would meet again
So you don't need to shed a drop of tears
Leave me with the smile which made me falling in love
With that smile, I can always find you
I love you, do you remember my trembling the first time we met
I love you, you say to me after a long time
I thought that our love isn't possible
Because it's too beautiful
When I try to turn away before you
You came back as a dreamy love
Woo~Hoo~Hoo
Even if it's not at this world
We would meet again
So you don't need to shed a drop of tears
Leave me with the smile which made me falling in love
With that smile, I can always find you
When we meet again someday
Can you make just a promise
Don't love painfully and break up easily