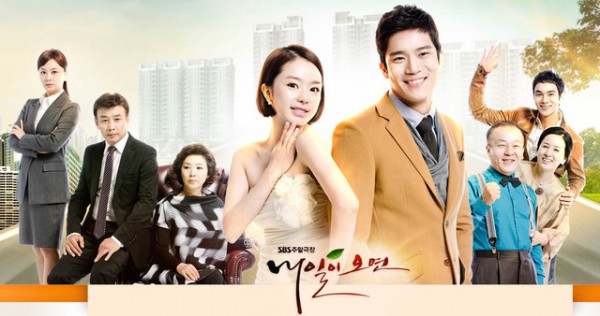 Drama Title: If Tomorrow Comes
Korean Title: 내일이 오면
Romanization Pronunciation: Nae-il-i O-myeon
Also Known As: When Tomorrow Comes
Chinese Title: 假如明天来临
Japanese Title: 明日になれば
Genre: Family, Romance
Episodes: 51
Broadcast Place: South Korea
Broadcast network: SBS
Broadcast period: 29 October 2011 – 22 April 2012
Language: Korean
Air time: Saturday and Sunday 8:40 PM
Preceded By: My Love Beside Me
Followed By:
Plot Summary / Synopsis
"If Tomorrow Comes" is about the love and conflict between a mother and daughter and tells the story of restoring love between family members. The drama describes a woman who has strong desire to control due to hardship suffered in life during childhood period. The desire eventually leads to te breakup of the family, destroying oneself. After losing everything she only starts to rethink profoundly, what is the power that made human being persist in despair. Seo Woo takes on the role of kind-hearted college girl Eun-chae, who thinks respecting your parents brings you happiness. The mother role will be played by Ko Doo-sim.
Cast
Seo Woo (서우) as Yoon Eun Chae (윤은채)
Go Doo Sim (고두심) as Son Jung In (손정인)
Ha Suk Jin (하석진) as Lee Young Gyun (이영균)
Kil Yong Woo (길용우) as Yoon Won Sub (윤원섭)
Kim Hye Sun (김혜선) as Kim Soon Jung (김순정)
Lee Kyu Han (이규한) as Lee Il Bong (이일봉)
Im Hyun Sik (임현식) as Lee Kwi Nam (이귀남)
Lee Hye Sook (이혜숙) as Kim Bo Bae (김보배)
Lee Kyung Jin (이경진) as Yoon Won Ja (윤원자)
Seo Yoo Jung (서유정) as Hyun Sook's elder sister (현숙이 누나)
Kim So Yun (김소연) as Da Jung (다정이)
Nam Il-woo (남일우) as Ambassador Seo (서대사)
Kim Joo Ri (김주리) as Lee Ji-mi (이지미)
Lee Seung Hyung (이승형) as Son Jung Mo (손정모)
Shin Da Eun (신다은) as Oh Soo Jung (오수정)
Park Soo Young (박수영) as Lee Jin Gyu (이진규)
Do Yi Sung (도이성) as Lee Sung Ryong (이성룡)
Jeong Jin (정진) as Ji-ho (지호)
Production Credits
Director: Jang Yong Woo (장용우)
Scriptwriter: Kim Jung Soo (김정수)
Official Site
Office Photo Gallery
Official Behind the Scene (Making) Video Clips
Watch online with English subtitle (not yet available).
Watch online with Chinese subtitle at letv.com, tudou.com, sohu.com, xunlei.com, iqiyi.com and youku.com.
News, Interview and Behind the Scene
Photo Gallery