Your Rating
The 2nd original sound track (OST) for TV Chosun drama series Hanbando (Korean Peninsula) is released on February 20th, 2012. Hanbando OST Part 2 contains two tracks which comprised of two songs sang by two different singers.
The first title track for Hanbando OST Part 2 has the name of If We Were (만약에 우리 둘 중 하나라도).
The song of If We Were is sang by Park Hwayobi (화요비 박레아), a female South Korean R&B singer.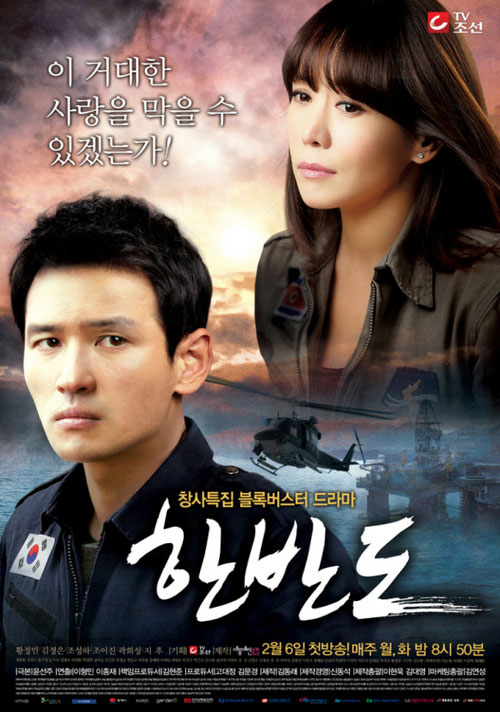 Hanbando (한반도) OST Part 2 Track List
If We Were (만약에 우리 둘 중 하나라도) – Hwayobi
Heaven (천국) – Lee Hye Ji
Listen to If We Were (만약에 우리 둘 중 하나라도) at YouTube.
If We Were (만약에 우리 둘 중 하나라도) Lyric
가려던 길 뒤로 한 채 다시 뒤를 돌아 걸었지
혹시 네가 나보다 뒤쳐져 있을지 몰라
길 잃은 아이처럼 울던 너는 나를 보며 말했지
어둠이 흩어질 때까지 너를 지키라고
만약에 우리 둘 중 하나라도 움직이지 않고
가만히 있었으면 어땠을까?
엇갈린 시간이라 예감했다면
모두 다 주었을텐데 우리 처음 만났던 그때처럼
그래 얼마나 다행이니 우리 헤어질 수 있어서
언젠가는 서로가 혼돈 속을 걸을텐데
가만히 가만히 이렇게 여기서
오 이렇게 이렇게 너만을 기다려
넌 기다려도 돌아 올 수 없단 걸 잘알아
널 사랑해 사랑해 사랑해 사랑해
널 기억해 기억해 기억해 기억해
우린 영원할 수 없으니 Forgive Me
If We Were (만약에 우리 둘 중 하나라도) Lyric Romanization
karyeodeon gil dwiiro han chae tashi dwiireul do-ra keo-reot-ji
hokshi ni-ga naboda dwiichyeojyeo isseul-ji molla
girirheun a-icheoreom uldeon neoneun nareul bomyeo marhaet-ji
eodumi heu-teojil ttaekkaji neoreul jigira-go
manya-ge uri dul jung hanarado umjigiji anhko
kamanhi isseosseumyeon eottaesseul-kka?
eotkallin shi-ganira ye-gamhaet-damyeon
modu da ju-eosseul-tende uri cheo-eum mannat-deon geuttaecheoreom
keurae eolmana dahaengini uri heyeojil su isseoseo
eonjenganeun seoro-ga hondon so-geul keo-reul-tende
kamanhi kamanhi ireohke yeo-giseo
o ireohke ireohke neomaneul gidaryeo
neon gidaryeodo do-ra ol su eopt-dan geol jarala
neol sarang-hae sarang-hae sarang-hae sarang-hae
neol giyeo-khae giyeo-khae giyeo-khae giyeo-khae
urin yeongwonhal su eopseuni Forgive Me
If We Were (만약에 우리 둘 중 하나라도) Lyric English Translation
I turn around from the road that I am going, turn back again and walk
I don't know you may be lagging behind me
You look at me and say like a lost child who is crying
To protect you until the darkness disperses
Even if one of us couldn't move
Has to stay still, how will it like?
If you have a presentiment that the time will be entirely different
Would have given everything just like when we first met
Well, how fortunately it's, that we are able to break up
Someday, both of us will walk in chaos with each other
Staying still, staying still, over here like this
Like this, like this, I will wait for you
I know perfectly well that you won't return even if I wait
I love you, I love you, I love you, I love you
I remember you, I remember you, I remember you, I remember you
Since we cannot be forever, forgive me