Girls' Generation member Lim YoonA grows as an actress through drama series "Love Rain".
YoonA is currenty starring in KBS 2TV Monday and Tuesday miniseries "Love Rain". "Love Rain" depicts the love of Seo In Ha (Jang Geun Suk) and Kim Yoon Hee (YoonA) in 1970s, and Seo Joon (Jang Geun Suk) and Jung Ha Na (YoonA) in 2012. It includes both sentimental and love rules of digital age. On the day of production press conference, her burden on playing two characters greatly reduced because of continuous discussion and support of fans, and personal adaptation. In the drama, she transforms from innocent YoonA who is unfamiliar in expressing her feelings, to Ha Na who confesses to man he loved when drunk, supports first love of mother, and warm inside the heart.
YoonA is now working hard to transform as an actress. YoonA who met with interview team on a restaurant around Hongdae, Seoul, said, "What efforts should I make in order to solidify the foundation as actress? I have pressure because of thinking of these." Unlike the depressed YoonA, the staff crews on the scene constantly praise her. The reason is that she humbly asks for advice in acting, seeking recommendations from director Yoon Suk Ho and directors of photography, etc. What's wrong, what point's insufficient, YoonA wants to hear honest and candid assessment.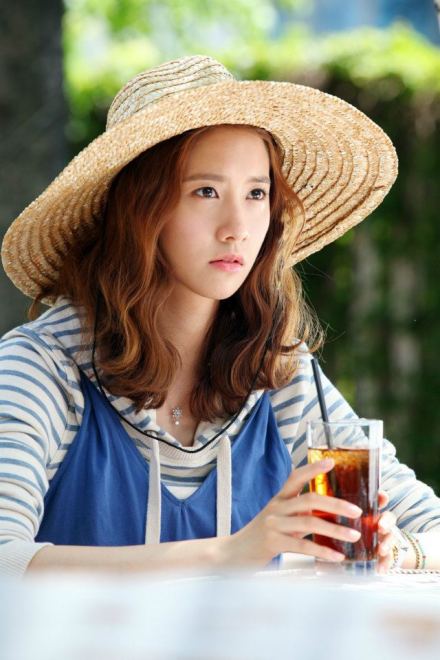 YoonA does not hide her efforts, "Although does not act for 2 years, but I feel that I mature a lot during the period. How to cooperate with each other, how to analyze lines, the horizon when looking at the project become broad." Jang Geun Suk also said, "The fans of SNSD's YoonA who only know about beauty, will be happy seeing the new look."
YoonA wants to pursue the road of actress in future, the influence of director Yoon Suk is also great. Choi Ji Woo of "Winter Sonata", "Song Hye Kyo of "Endless Love", "Han Hyo Joo of "Spring Waltz", and Son Ye Jin of "Summer Scent", actresses who starred in dramas of director Yoon Suk Ho become real actress without exception. "Through director, I can learn and understand, thinking of these I am excited," showing the great impact by director Yoon Suk Ho on YoonA.
Director Yoon Suk Ho said with a smile, "In order to find the young actress who possess both bright and pure image is difficult. I feel that YoonA is the most suitable candidate, so I chose her to star in the drama, and I'm sorry because of low viewership ratings." Besides, he also praised, "YoonA has outstanding tolerance and ability to absorb that are beyond her age, she can quickly integrates into the atmosphere at the shooting scene, get along very close with the staffs and other actors."
via Nate