Your Rating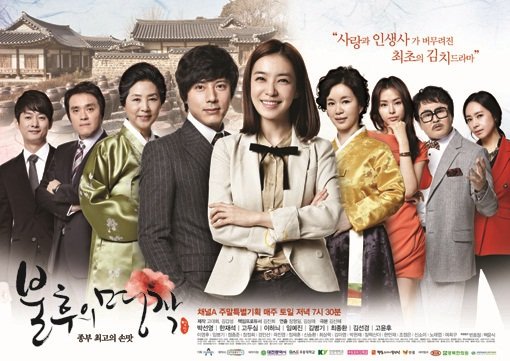 Drama Title: Immortal Classic
Korean Title: 불후의 명작
Romanization: Bulhuui Myeongjag / Bool-hoo-eui Myeong-jak
Chinese Name: 不朽的名作
Japanese Name: 不朽の名作
Genre: Drama
Episodes: 20
Broadcast Place: South Korea
Broadcast network: Channel A
Broadcast period: 17 March 2012 – 20 May 2012
Language: Korean
Air time: Saturday and Sunday 7:40 PM
Preceded By: Heaven's Garden
Followed By:
Plot Summary / Synopsis
Immortal Classic is a 'kimchi' drama that tells the story about a fight over the position for the greatest cook and the greatest cooking assistant, and the destiny, misunderstand and forgiveness between two families.
Cast
Park Sun Young (박선영) as Hwang Geum Hee (황금희)
Han Jae Suk (한재석) as Kim Seong Joon (김성준)
Im Ye Jin (임예진) as Kang San Hae (강산해)
Go Yun Hu (고윤후) as Oh Geon Wo (오건우)
Kim Byung Gi (김병기) as Seo Don Man (서돈만)
Go Doo Shim (고두심) as Park Gye Hyang (박계향)
Lee Ha Nui (이하늬) as Seo Yeong Joo (서영주)
Choi Jong Hwan (최종환) as Kim Hyeon Myeong (김현명)
Kim Sun Kyung (김선경) as Choi Jin Mi (최진미)
Baek Yoon Shik (백윤식) as Hwang Yeong Cheol (황영철)
Shin Seung Hwan (신승환) as Hwang Geum Ho (황금호)
Yeo Hee Goo (여희구) as Hwang Bo Ram (황보람)
Alexander (알렉산더) as Alexander (알렉산더)
Production Credits
Director: Jang Hyung Il (장형일) , Kim Sang Rae (김상래)
Screenwriter: Kim Shin Hye (김신혜)
Trivia
The series is originally to broadcast as Wednesday and Thursday drama, but as the theme of the drama is love story with the background of big families, it is adjusted as weekend drama for family viewing.
Official Site
Official Photo Gallery
Official Behind the Scene (Making) Videos
Watch online with English subtitle at viki.com.
Watch online with Chinese subtitle at youku.com.
Photo Gallery