Cast introduction of In Time With You with descriptions of the characters and roles in the drama:
Cheng You Qing (Ariel Lin)

About to step into her 30th birthday, head of north district of a shoe manufacturer, responsible for the sale of shoes and its related services, walks in high heel shoe every day, full of energy and has the confidence and charm of a mature woman.
She has great mobility. Speaks up when there is injustice, and will speak bluntly when wronged. She is certainly not the type of selfish people who can do whatever they want but not the others, so she makes sure that she is so "good" that others cannot feel injustice. She was very good in her studies, have always been the class monitor, the warden, excellent nourishment is giving raise to her unconscious pride, so she is always full of ideas, and is very strong opinionated.
Her father would often say: "Becoming a little vulnerable once in a while will not make you lose a pound of flesh." But having said that, every time he watches her get agitated while putting forward a strong argument, he always smiles with "admiration".
She believes in her excellent vision on men, but unfortunately in the eyes of others, she is a "vacuum cleaner" that sucks bad men. Of course, each time when her relationship fails, she eventually admits being "blind" the previous time. But when the next time arrives, her strong will, once again leads her to "repeat the same mistake". Each of these times, Li Da Ren is there to accompany her through it all. Li Da Ren is the one who can stop her conversation, lets her cry out, lends her a shoulder to lean on, allows her to vent her temper and act willfully on him. Not only classmates and colleagues, but even their family members feel that they should be together!
Actually, it's not that she never thought of him as a good man, but after known each other for so many years, she has practically exposed all her shortcomings and weaknesses to him. Distance is needed to show the beauty of love. So, who would fall in love with a foolish woman without any disguise, except an idiot?! And "he" had stated explicitly, "I may not love you", isn't it?
So, "he" can only be a buddy, an old friends, a close relative, a lifelong friend. Ever since making a bet of "whoever gets married first before the age of 35 wins NT $100,000 red packet" with "him", she is determined to win! It's not just an issue of can't afford to lose, but because of in ​the blueprint conceived by her, the goal of "getting married by the age of 28" is already gradually going further away, how can she let herself down with "all the benefits" that she can get?! So this year, she's giving in her all!
Li Da Ren (Bo-Lin Chen)

30 years old. Supervises the ticketing of an airline company. So, many relatives and friends look for him to help handled their air tickets, there are also many lonely men demanding him to introduce them to beautiful air-stewardesses. He looks a little casual, and inadvertence, but actually, he's a very stubborn person; once he sets his determination on something, it remains for a lifetime.
Many people say that he and Cheng You Qing ought to become a couple, but at that time why did he blurt out the phrase "absolutely impossible to fall in love with you?" Perhaps the reason lies in his mother.
His mother is pretty good in Chinese art, she is an elegant and super-strong opinionated housewife, and always pampered by his father. When his father was still alive, the thing that he had constantly kept saying again and again was, "do as your mother says!". So, when decorating the house, even if there is only a little dissatisfaction, it has to be torn if his mother says so; if his mother felt that one of his father's friends is not upright, since then he was never seen entering their house again. Before breathing his last breath, his father did not forget to hold his hand and urged him, "remember to love your mother dearly."
Of course he loves his mother, but there is nothing he can do about his mother, his sister subsequently joined to disturb, he already has two princesses to serve in his life, how could a third one arrive? As for this girl, Cheng You Qing, there was always a love-hate relationship since high school, cannot let himself to have opportunity to think too much, good impressions were formed, treated her as a lifelong friend, encouraged her after she suffered setbacks, accompanied her to drink after her breakups! But after knowing her for 14 years, he discovers that he can no longer constrain some kind of feelings, and always feels that the man standing beside her should be him and not any other man.
There are some things which you can deceive everyone else but you can't deceive yourself – even if he keeps saying impossible, but in the end it can't be erased, that phrase "impossible to fall in love with her", is in fact the fear of loving her too much, that he might lose her, so it is better to pretend that he doesn't love her.
When love has already embarked on the road of friendship, it's hard to go back. Time and again, he wanted to speak up, but she repeatedly changed the topic; time and again, he wanted to hug her tightly, but she just happen to crouch while immersed in crying. It seems like she never discovered that there was such a heart beside her, that has been waiting for her response. He also tried to go on several dates, but so sorry, that most ends in regret! There's nothing that can be done, who told all of them cannot accept the presence of Cheng You Qing in his life? Perhaps, until she's married, then only can he completely let go and move on! So this year, the bet agreement made when she approaches her 30th birthday, perhaps is the biggest gamble he has ever made in his life.
Ding Li Wei (Sunny Wang)

He is the representative of charisma of mature man, with a soul that made woman wandering, yet woman can't let him go.
Was once deeply in love with You Qing, but still he can beat his free-spirited soul, as he was caught in bed with his former girlfriend, they broke up. However, after a period of five years, the increased distance made him find his lost heart, he discovers that the person he loved the most is You Qing, she is like a book worth reading again, so he decides to return to the place that has You Qing. This handsome but selfish man had once deeply hurt You Qing, but she is once again dazed by him, he admits his mistakes, and touches her with the most sincere heart, he proudly declares that he wants to get his woman back! In the telephone code of You Qing, he is a opium poppy that women are infatuated with, but also likes an overnight dish of a plate of twice-cooked pork that becomes splendid after recook, but the soul that is free, after all, will commit the offense again persistently. He really loves her, after five years, he believes each of them have somewhat matured, in order to forget the unpleasant past, he uses more tolerance and care to look after her. But, Da Ren who always present between the two of them never disappears, brooding like a thorn in the back, if he doesn't hurry and marry this woman, how will he have peace of mind?
Maggie (Andrea Chen)

25-year-old airport ground staff, she's a sweetheart type of girl. It's no secret that she likes Da Ren, in addition, Da Ren totally fits the qualifications of her ideal man, so she acts with the intention of marrying him. Every time Da Ren says he already has a prior appointment, she will not give up easily and adds: "Then I can join?" So within Da Ren's and You Qing's "stall", she would occasionally put her foot in too, and as the result, she gets to know You Qing.
Love a person and everyone connected to that person. In order to like Da Ren, she also likes You Qing too, even though You Qing and Da Ren share a relationship that others can never intervene, it makes her flustered and worried, but she still gives in her best to maintain. She insists that love needs management, and management require plans to be carried out. She didn't want to become like her mother, being dumped at the age of 30, and for the lifetime only has the name but not in reality.
She wrote the her qualifications for desired men on a whiteboard, looking at it and reading it everyday, must be good-looking but not too handsome, has a stable job but not too rich, has temper like that of a big brother, must be be shy and bad at chasing girl, must be together in the same office from morning till evening, must have a simple family, and must get married within two years! She just wants a simple and ordinary married life, why is it so hard?
Family of Cheng You Qing
Cheng You Qing's Mother (Lin Mei Xiu)

Is an active and helpful person, although has already been busy enough for her husband and children at home, she still often go to everywhere to volunteer and help others. May be helping others will get rewardede, Cheng's mother looks youthful, mood is even more lively, already lives for age yet still happy to learn. Lately, after MSN, she is addicted to Facebook. She is extremely supportive of Da Ren, only to sigh of own daughter's lack of progress.
Cheng You Qing's Father (Luo Bei An)

Is a man liked to give instruction but unwilling to execute it. For example, Cheng's mother is busy in the kitchen, Cheng's father who watches TV in the living room will shout to the kitchen "garbage truck is coming" upon hearing girl's prayer, but never gets up to dump the trash. Most prefer to drink and chat with Da Ren, especially like to convey the so called techniques to court girl and timing to seize the opportunity.
Cheng Guan Qing (Ying Wei Min)

Eldest son in the family, but is not close with Cheng's father. No, it should be said that Cheng's father is furious whenever seeing him! As a university graduate, nobody experts him to selling braised meat now after went to China to try his luck, and even often dump the children to the family house! Cheng's father regrets that his son does not live up to expectation, and particularly angry with constant divorce threat by Cheng Guan Qing and his wife. Cheng Quang Qing who is obstinacy feels his father pays more attention to female, coupled with looks down on him, so of course have to trouble You Qing.
Guan Qing's Wife (Ma Nan)

Is new resident from mainland. Because she has faint sense of inferiority, she is narrow-minded, and always want to take advantage of You Qing. Her relationship with Guan Qing is very good like a sticky glue, but they quarrel no less, every time she thinks of Guan Qing bragging that she was kidnapped by biss boss to Taiwan to sell braised meat, she is resentful and hate, shout and hit! She always envious of life outside, always full of complaints on own marriage, have forgotten the original meaning of loving in the past.
Cheng Mei Qing (Jamie Yin Qi)

The second child, married a wealthy husband who is liked to play around. She is eloquent, once she wins an argument she won't let go of it, is a kind of slightly selfish. The only one in the family that can win her in argument is You Qing! Because You Qing is better than her in everything since childhood, so she is always fall short in front of You Qing, more like a younger sister.
Mei Qing's Husband (Xie Yu Wei)

Older than sister 10 years, shorter than sister a head length, such as unimpressive man manage to do everything by using just money, has a lot of lovers outside. But he own confesses that he very loves his wife, and he needs console of other women because he feels too inferior in front of his wife. Everything when wife is too angry and goes back to parents' home due, he will be like the years when he was chasing his wife, goes to in front of her house to stand duty. He self confesses that it's so romantic, just like always in love.
Family of Lee Da Ren
Li Da Ren's Mother (Zhou Dan Wei)

Recognized as a classic beauty, tasteful and elegant, and can draw good Chinese arts, so even though she almost 60 years old, there are still a bunch of suitors. She enjoys the feeling of been the focus of spotlight, but also feels that there is no more good man that worthier than her late husband that she can entrust, so it may be also a good idea to let herself to leave forever been courted. Subconsciously, Li's mother does not want Da Ren to marry, she likes to grab his arm to go shopping, to participate in various social activities, and then wait for the one sentence, "Oh you two are the mother and child? I thought you both is brother and sister!" Does not pay attention to accompany by Bai Shu, until Bai Shu falls in love with other people, then only comes to realize that some things, once missed, is too late. Because she is always been pampered, this makes life difficult for Li Da Ren, has to take care of what his sister called as old princess, but every time seeing his mother together with Bai Shu, Da Ren laments the no progress of his relationship with You Qing.
Li Tao Tao (Meng Geng Ru)

Is the younger sister of Da Ren, characteristic of punk and rock brings lots of headache to Li's mother. Keeps changing boyfriend, of which all is engaging in underground band, the fashion that shocked Li's mother, virtually scare the elegant mother. But in fact she is just a little princess who genetically inherited her mother, although the appearance is rebellious, arrogant, but inside her heart is extremely soft, just does not know how to express.
Uncle Bai (Jin Shi Jie)

One of the "bosom friend" of Li's mother. Is also good friend of Da Ren. Is a famous theater actor, is strict yet romantic, always answer any question honestly, never overlook, nor sniff at young people on his seniority. Likes to bicker with Li's mother, asks Li's mother to help him in lay. Two persons who are over 50 years old, accompany each other just like that, get along calmly like a warm water.
High School Schoolmates
Lu Xing Di (Ya Zi)



Di Shu (Tsai Chang Hsien)



Da Cong (Zeng Wei Hao)



Mei Nan (Liu Yi Hao)



Mei Mei (An Wei Ling)


This group of schoolmates, after experiencing the high school which sharply divides between guy and girl, will certainly have appointment to meet again something in life. For example, when someone gets married, when someone passed away, or when someone is sad! Facing own relationship problems, they give each other advices, as well as have a common question in heart, that is, the class monitor and assistant class monitor who supposed to be together, do they ignite the fire of love in the end?
You Qing Working Place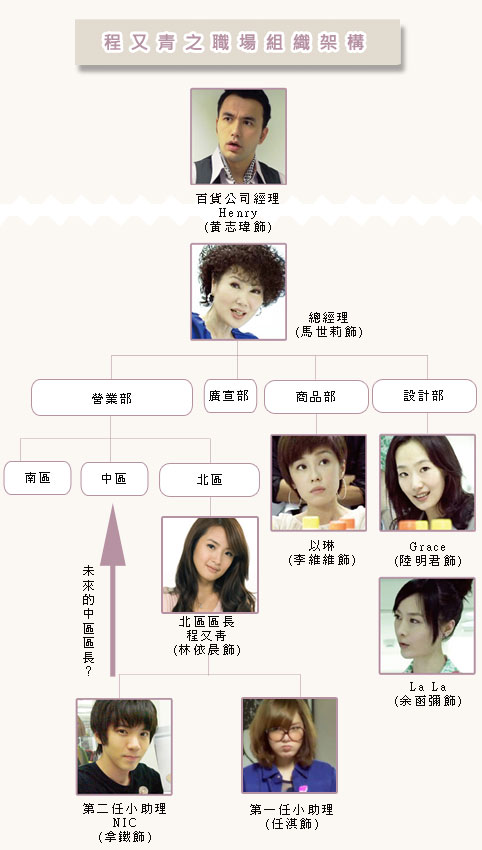 Hierarchy of You Qing workplace
General Manager (Ma Shi Li)



Lala (Yu Han Mi)



Zi Lin (Li Wei Wei)



Grace (Joelle Lu)



Nic (Na Tie)



Henry (Jerry Huang)


In the shoe company of You Qing, they design the high heel shoes most loved by women, then put on shelves to sell. The lazy and confused General Manager, always pass the day with fantastic mood. Facing with aggressive designer Grace and pragmatic realism You Qing, she always has her own way to put the best people into the most appropriate position. Unexpectedly, the ex-ex-girlfriend of Henry, Zi Lin, ex-girlfriend You Qing, and current girlfriend Lala are actually co-workers! Come into unavoidable confrontation, originally thought it would be a terror, but unexpectedly three persons say frankly of their feeling and become friend. Really does not know these group of women is too shrewd, or Henry is too cute!
Why everybody falls in love in the same place? Perhaps because people now is too busy, busy until the circle of friends becomes smaller and smaller. Ex-boyfriend of You Qing, Henry, is senior supervisor of departmental store, childish, but loves to be romance, even if ex-girlfriends all of same company, he does not embarrass at all, and will look for ex-girlfriend You Qing to together buy things for current girlfriend, just because You Qing is the one who has best taste among his ex-girlfriends! Loves car more than anything else. When quarreling one can hit him, but cannot throw the car door, and You Qing is the only one girl who wants to break up by kicking at the car door!
You Qing has been reluctant to admit that she is bad men dust collector, not to mention 30-year-old woman is even more attractive! Indeed, the new assistant is a young and promising 25-year-old boy Nic, not only his work ability is excellent, he is very intimate, shows his mature care in public and in private, let You Qing feels friendship that beyond respect for senior and causes heartbeat to increase and heart rattling.
Da Ren Colleagues in Singapore
Ping An (Joanne Zeng Zhi Qiao)



Lin Kai (Fang Jiong Bin)


Watching the two of them get along, always make Li Da Ren feel deja vu. When Lin Kai and him is together, he saw Ping An always followed the eyesight of Lin Kai, but Lin Kai is just treating her as "friend." Under Da Ren's suggestion, Ping An confesses to Lin Kai, although unsuccessful, but at least do not have to be like Da Ren, who is hurt painfully in heart but has to pretend everything is OK, at least she can leave smartly, and find another relationship!