The wonderful grand final of Sunday's idol drama In Time with You (I May Not Love You) was broadcast on December 11th, 2011, and its average rating for the last episode 13 surged to 5.51, an increase of 1.86 over the episode 12 aired last week. It's the highest ratings ever achieved by the drama series, winning the ratings battle convincingly. Original ratings champion "Office Girls" experienced a drop of 0.71, rated 4.66 for average viewership. While many fans is moved by the ending, the official Facebook fan page has announced that they have treasure box!
In the final episode, Cheng You Qin and Li Da Ren played by Ariel Lin Yi Chen and Bo-Lin Chen finally married, although they only together with each other in the last episode, but in the final episode alone, they kissed for 15 times, the sweetness intoxicates the fans. At the end of the drama, a "The End?" was shown, letting the fans to look forward for a sequel.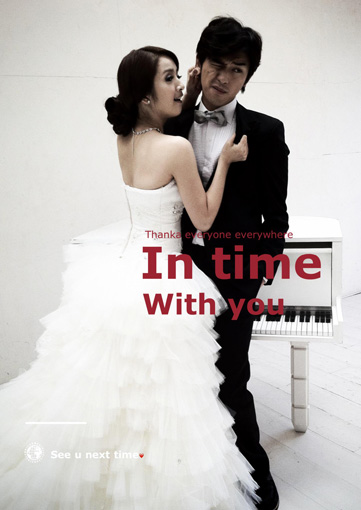 Producer expressed gratitude to viewers.
But previously screenwriter Xu Yu Ting had said that it's impossible for a sequel, but a movie version is possible. Seeing the support of fans to "Qing Ren love," the editor of official Facebook fan page also said, "Do you all think it's the end here? Already said, it won't end here! Do you believe?" Even expressed that when GTV broadcast the final episode on Saturday, December 17th, 2011, will come up with a treasure box! Everything from postcard wrote by You Qing to Li Da Ren, to wedding photos of the two persons may have opportunity to expose.