The KBS2's Love Rain starring Jang Geun Suk and Yoona debuts on March 26th, 2012. On the day's episode, In Ha (Jang Geun Suk) and Yoon Hee (Yoona) meet for the first time in 1970s.
In the campus of 1970s, the warm sunlight shines through the windows of library. In Ha and Yoon Hee and are looking for books encounter by chance.
The "Romeo and Juliet" of the scene meet each other in the library, let people connects in mind to their romantic dating. Especially in the university period, everybody dreams of having a romantic encounter. The enjoyment of that era has attracted enthusiast responses.
Yoona recalled the shooting and said, "When shooting the scene, really felt the romance of Joon Hee in the encounter. That is one of the most memorable scene."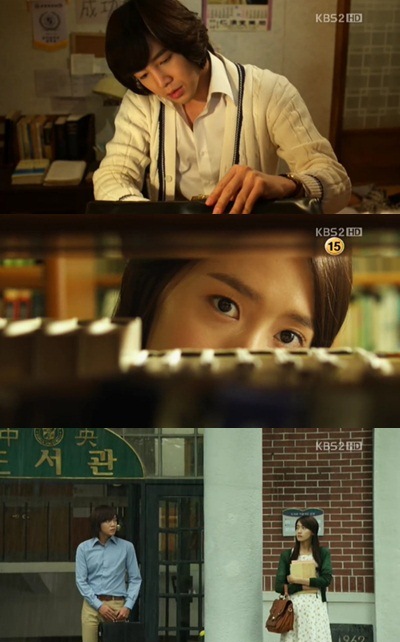 Netizens said, "Jang Geun Suk and Yoona are very matching. The encounter in library is so romantic," "Romeo and Juliet," "The romantic encounter of Love Rain, romance of the century! Completely looking forward to it," "The exchange of eyes' expression between Jang Geun Suk and Yoona romanticize me," "Oh, I also hope to have one such an encounter" and so on.
via Nate