The 2nd OST (original soundtrack) for tvN cable channel drama series Shut Up Flower Boy Band is released on February 13th, 2012, together with music videos at a later date.
The Shut Up Flower Boy Band OST part 2 is a song named with title of Jaywalking (무단횡단).
Jaywalking is sang by Sung Joon (성준), the actor in leading role in the drama series. The song is composed and written by Lee Jae Hak.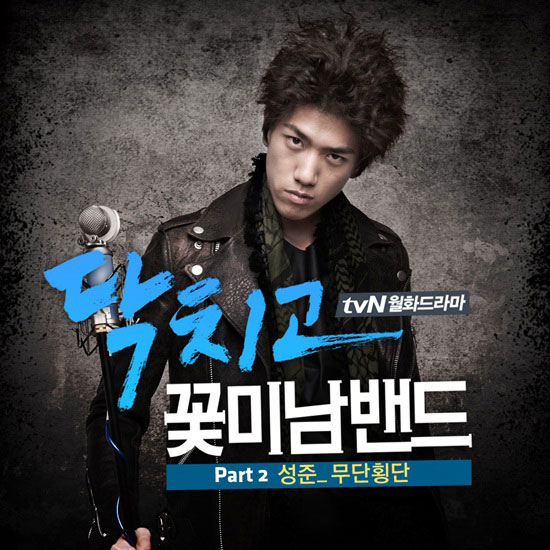 Shut Up Flower Boy Band (닥치고 꽃미남밴드) OST Part 2 Track List
Jaywalking (무단횡단) – Sung Joon
Jaywalking (무단횡단) – Instrumental
Jaywalking (무단횡단) Official MV
Jaywalking (무단횡단) Official Drama Version Cut Music Video
Jaywalking (무단횡단) Lyric
널 처음 본순간 머리는 핑돌고 시간은 멈추고
지금 파란불이든 설령 빨간불이든 보이지가 않아 난
아무것도 다 필요없고
그냥 내 가슴이 너를 향한다
내 사랑하는 그대여
무작정 달려가 너를 안는다
나 생긴대로 이렇게
겁없이 달려가 너를 안는다
아름다운 널 볼때면 내 내 내 가슴이 턱
룰따윈 몰라 난 그누가 뭐래도 나를 자꾸 막아도
쓰러져 버리든 눈물이 흐르든 내 갈길은 하나다
아무것도 다 필요없고
그냥 내 가슴이 너를 향한다
내 사랑하는 그대여
무작정 달려가 너를 안는다
나 생긴대로 이렇게
겁없이 달려가 너를 안는다
아름다운 널 볼때면 내 내 내 가슴이 턱
Jaywalking (무단횡단) Lyric Romanization
neol cheo-eum bonsunkan meorineun pingdol-ko shi-ganeun meomchu-go
chigeum paranbu-rideun seollyeong ppal-kanbu-rideun boiji-ga anha nan
amugeot-do da pilyoeopt-ko
keunyang nae gaseumi neoreul hyang-handa
nae sarang-haneun geudaeyeo
mu-chakjeong tallyeo-ga neoreuranneunda
na saenggindaero ireohke
keobeobshi tallyeo-ga neoreuranneunda
areumda-un neol bol-ttae-myeon nae nae nae gaseumi teok
rul-ttawiin molla nan geunuga mworaedo nareul jakku ma-gado
sseureojyeo beorideun nun-mu-ri heureudeun nae kal-gi-reun hanada
amugeot-do da pilyoeopt-ko
keunyang nae gaseumi neoreul hyang-handa
nae sarang-haneun geudaeyeo
mu-chakjeong tallyeo-ga neoreuranneunda
na saenggindaero ireohke
keobeobshi tallyeo-ga neoreuranneunda
areumda-un neol bol-ttae-myeon nae nae nae gaseumi teok
Jaywalking (무단횡단) Lyric English Translation
The first time I saw you, my head spun and time stopped
I cannot see whether it's green light or red light now
I do not need anything else
My heart is only heading for you
You whom I love
I run blindly to you and hug you
I look at the way
I run fearlessly to you and hug you
Whenever I see the beautiful you, my heart drops
I do not know any rules, no matter what anyone says, even repeatedly been blocked
Regardless of I fall down, regardless of flowing tears, my path is one
I do not need anything else
My heart is only heading for you
You whom I love
I run blindly to you and hug you
I look at the way
I run fearlessly to you and hug you
Whenever I see the beautiful you, my heart drops