The romantic kiss scene of Ji Hyun Woo and Yoo In Na at Gwanghwamun in tvN drama series "Queen In-Hyun's Man" was revealed.
On April 9th, 2012, the preview video of Queen In-Hyun's Man released portrayed that scholar Ji Hyun Woo who time traveled from Joseon Dynasty and nameless actress Yoo In Na meet at Gwanghwamun Plaza. 
Ji Hyun Woo is wearing hanbok, while Yoo In Na is wearing jacket and white skirt, representing their own era, forming an interesting scene.
Netizens commented, "Ji Hyun Woo is so handsome", "Yoo In Na and Ji Hyun Woo feel like real lover", "Curious of how mnay kind of kiss scenes there are this time" and so on.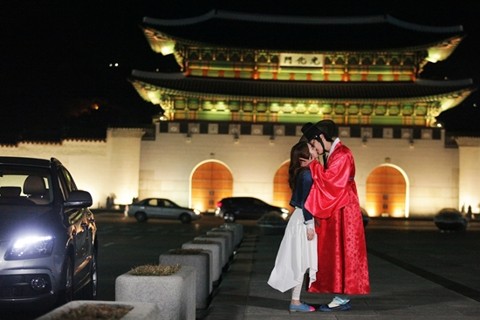 Production team revealed that in addition to "Gwanghwamun kiss", there are a variety of kiss scenes, adding to the fun of romantic fantasy.
tvN Wednesday and Thursday drama "Queen In-Hyun's Man" premieres on 11pm on the night of April 18th, 2012. The drama is a romantic drama that tells the love story beyond time and space of scholar in Joseon Dynasty, Ji Hyun Woo, and nameless actress Yoo In Na who plays the role of Queen In-Hyun in the drama "New Jang Hee Bin" in 2012.