Actor Ji Hyun Woo and Yoo In Na stage a dramatic "earplug kiss" in tvN drama series "Queen In-hyun's Man".
In the episode 4 of "Queen In-Hyun's Man" broadcasted on April 26th, 2012, Kim Boong Do (Ji Hyun Woo) finds out that he can time travel using a mysterious spell, so he comes to modern era for the sake of restoration of Queen In-Hyun.
With the help of Choi Hee Jin (Yoo In Na), Kim Boong Do visits the library in order to view the "Annals of the Joseon Dynasty". They show a sense of romance just like a adhesive couple.
Choi Hee Jin who gradually begins to feel the subtle charm of Kim Boong Do successfully realized the "earplug kiss" in the library.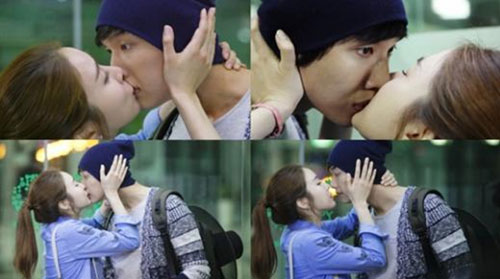 Choi Hee Jin grabs and pulls the head of Kim Boong Do closer to her, overcoming the 22cm difference in height to complete the romantic kiss. It's reported that this scene was successfully after 10 NGs.