Ji Hyun Woo and Yoo In Na are receiving attention for staging a sweet car kiss scene in cable channel tvN miniseries "Queen In-Hyun's Man".
The romance Ji Hyun Woo and Yoo In Na in "Queen In-Hyun's Man" has been constantly on display. In the episode 8 aired on May 10th, 2012, the two persons kiss passionately in the car.
The sweet and passionate kiss scene was completed after 4 hours of overnight shooting. The kiss was done after the full of loving tone of Yoo In Na and when the eyes' expression performance of Ji Hyun Woo reaching a climax, where they confirm the love to each other.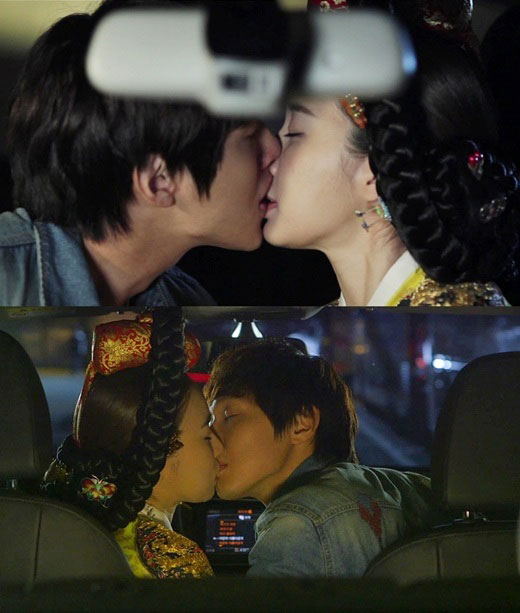 Then Ji Hyun Woo proposes to return to Joseon Dynasty to settle everything, and reaches an agreement to meet again on the same place a month later. Yoo In Na also agrees to the proposal with pleasure. The whole process adds to the sadness and beautifulness of drama.
Audience and netizens have very enthusiastic reaction, "Is the best drama series among the drama I watched recently," "Is both sweet and vivid," "The most stimulating car kiss scene ever watched," and so on.
In addition, in the end of the episode, Ji Hyun Woo who returns to Joseon Dynasty is attacked by assassins, and lost the mysterious spell which can be used to travel between Joseon Dynasty and the future. Therefore, he forgets the 2-month memories in which he met Yoo In Na after using the spell, arousing curiosity for the future plot development.
via TVReport