The photo of Ji Jin Hee shakes hands with Barack Obama immediately becomes a sensation topic once it appears.
The new SBS drama series Take Care of Us, Captain (Please, Captaion) tells the story of people related to aviation industry such as pilots, mechanics, cabin crews, air traffic controllers and etc.
The scene in the drama that introduced the captain Kim Yoon Sung (played by Ji Jin Hee) has attracted attention of audience. Kim Yoon Sung appears in a scene where he is shaking hands with United States of America President Barack Obama and posing together for photo-op.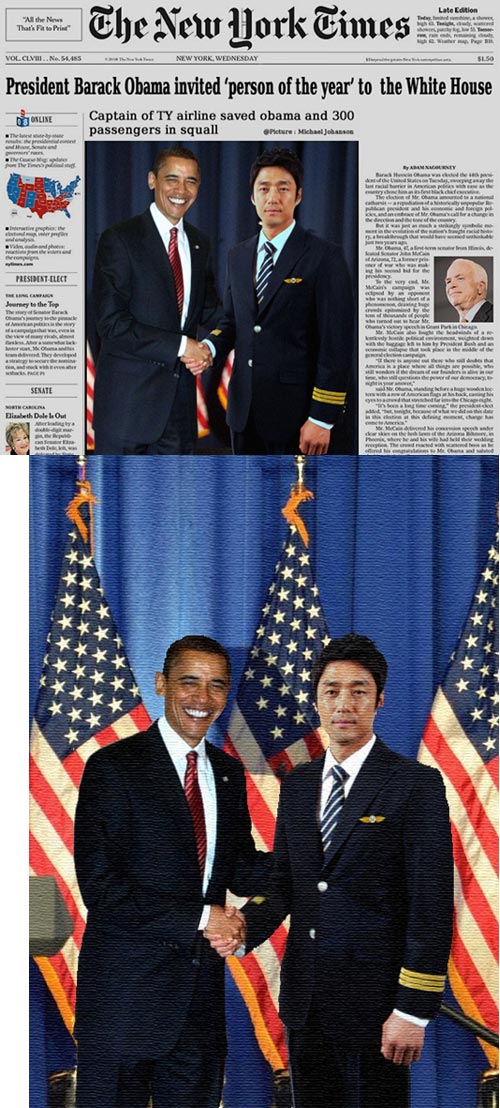 This is because Kim Yoon Sung was named the "Best Captain of the Year" after he successfully controlled the plane which he was piloting and carried 300 passengers and crews that included Barack Obama to safe landing after fighting with the gale. As recognition, USA President Barack Obama is welcoming him personally in White House and both of them posed for photography. The news and the photo also been carried on the front page headline of New York Times.
For sure the picture is a product of Photoshop, an edited image. In order to produce sense of reality, producer specifically found an actor of is about the same height with Barack Obama to shoot the photo together with Ji Jin Hee, and then changed the face of actor to the face of Barack Obama. And finally, changed the background to White House, producing a "fake" photo that as real as possible.
via Sports Donga