In an era full of uncertainty, all modern people living in fear desires to have a wise and intelligent mentor.
In KBS 2TV Monday and Tuesday drama series Brain, there is such a mentor. He is the specialist neurosurgeon professor Kim Sang Chul who has the absolute support and trust of colleagues, seniors, juniors and patients.
The role of Kim Sang Chul is played by skillful actor Jung Jin Young.
Jung Jin Young said in an interview, "Kim Sang Chul is a person with principle, is a perfect example of doctor who stresses everything for patients. But, is a strange person, in some ways is not a very accommodating person."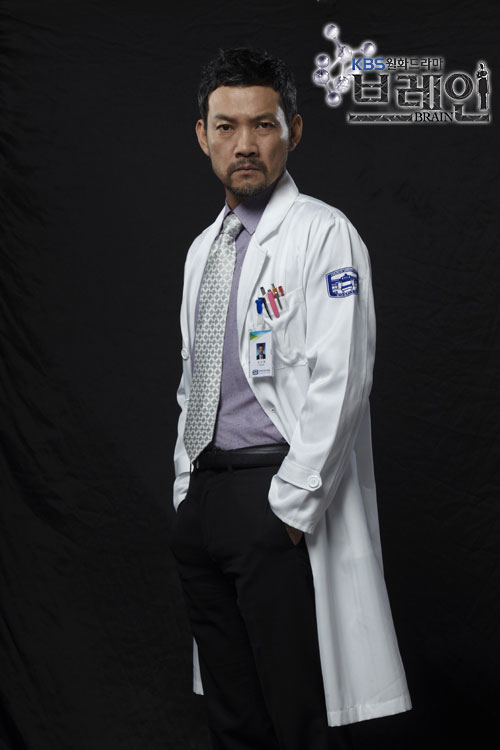 Although he thinks that Kim Sang Chul is an ideal image of doctor, but is not a saint either. He revealed that current image of Kim Sang Chul will soon change. And the viewers have also aware of the change through trailer. Although is a world's leading brain expert currently, but Kim Sang Chul used to experience fatal mistake too, and the failure is related to the father of lead character of the drama, Lee Kang Hoon (played by Shin Ha Kyun).
Jung Jin Young said, "This era really need a person likes a mentor, but I think it's not neccessary that cannot be a mentor once made a mistake. Even if there are mistakes in the past, but if they can seriously reflect on now, and can open to and inform young people and younger generation, can become a good mentor."
So, is Jung Jin Young a good mentor commendable by juniors in daily life?
"Generally when people says they want to talk about anything, in actual, they are not trying to find the answers. Just want to chit chat, just need a person who can listen to what said. From this point of view, I am more like a listener to others."
"Brain" depicts the story of gradual growth of Lee Kang Hoon during the process of confrontation with Kim Sang Chul.
Jung Jin Young believed that to Lee Kang Hoon, Kim Sang Chul is an enemy with endless changes who stimulating him to growth.
"To Lee Kang Hoon, Kim Sang Chul sometimes is a mentor, sometimes like a grandmother who intentionally tortures people, and sometimes it is difficulty in life that is necessary to overcome. Because of Kim Sang Chul believes Lee Kang Hoon is a yet to be polished stone, so he doubly torments him in order to let him shines."
Jung Jin Young who is devoted to film industry, expanded his acting career after playing in 2008 KBS's The Kingdom of The Winds. Later, Jung Jin Young appeared in "The Case of Itaewon Homicide," "Battlefield Heroes," and drama "Dong Yi."
During this period, he also served as the host for KBS survival challenge show "Challenger" and SBS TV's "I Want to Know That."
For TV shows, movies and program host, Jung Jin Young has his own views.
"The shooting of drama series is fast, no time for leisure, but will be able to receive feedback instantly, so I find it interesting. While the advantage of movie is the need of long time to show the acting fully. Because TV series and movie are of different type, so cannot say which is good and which is bad. But I think there is one thing in common, is that both is journey of acting. Just like cannot request personal comfort when traveling with others, no matter it's movie or drama, must meet the requirement of cooperation to complete."
"For work, I used to nitpick, but with the increase of age, I am more eager to try something never tried before. It's good to gain experience by trying new things, and if possible I also want to try talk show."