Padam Padam… Now is not just the level of heartbeats. The hearts of viewers almost jump out of the chest because of romance of Jung Woo Sung and Han Ji Min in JBTC's Padam Padam… The Sound of His and Her Heartbeats. The Padam Padam which has proven itself as a masterpiece as the first drama in history that recorded ratings that exceeded 2% (according to AGB Nielson), has rated highest rating of more than 4% in some areas on December 20th, 2011, injecting power to the surging of popularity.
In order to portray Yang Kang Chil who was falsely accused for a murder crime and went to jail for 16 years before been released, and Jung Ji Na who looks realistic but has a warm heart, Jung Woo Sung and Han Ji Min have put in all their efforts in filming. But even in such a tight schedule, they still spent some time to have a written interview with Ilgan Sports, sending pleasant New Year greetings.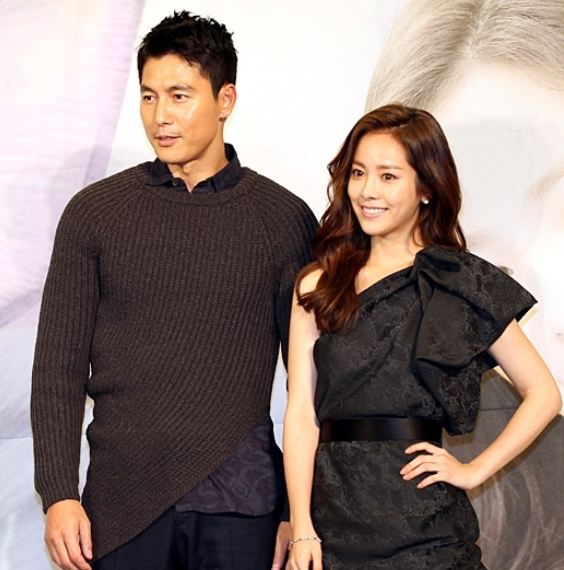 – The praises have been continuous for the excellent acting in portraying the lover couple with best visual effect. What's your 2012 belief and thoughts on having to pass on the filming set of Padam Padam?
Han Ji Min: "Currently I just thinking of working hard for Padam Padam until the end. I do end set special plan every year. Can live everyday ordinarily is a thing that is appreciative. I hope that I can always be like at this moment, been appreciative, and live healthily."
Jung Woo Sung: "With the passing of year after year, the feelings of welcoming the New Year seems to be fader. Especially like when the day crashed with the filming schedule of Padam Padam, it's even more so. But this coming new year will pass at Tongyeong which can watch the sun rise, should be different from usual."
– Yeah. You're welcoming the arrival of 2012 at the national famous holy place for sunrise.
Jung Woo Sung: "Weather forecast said it will be cloudy, but the passionate sun always rise inside my heart, so even if couldn't see the sun is never mind. Haha! Actually if counting including this year 2011, it's my third time celebrating new year at filming set. In Chine to film Reign of Assassins, and to film Athena and Padam Padam, this year will be at filming set again. Although we hide the tiredness expression on the face, and shouted "Happy New Year" with staff crews, but really hope that every readers can together with family members, friends, lover whom they love at a comfortable place, happily welcoming the new year, wish everybody gets lucky in the new year.
Han Ji Min: "Celebrating new year with handsome actors, excellent working team at the pleasant and happy filming set, to actor, is a very exciting experience."
– What news you would like to hear in the new year?
Han Ji Min: "In the new year, hope that no accident and incident happen, hope there is more good news appear."
Jung Woo Sung: "Hope Padam Padam can maintain its current popularity, constantly been loved by everybody. And one more person wish is to hope that mother stays healthy."
– Every time there is kiss scene, the rating will surge. Is there any memorable kiss scene or dating scene that left deep impression?
Han Ji Min: "The difference of Kang Chil and Ji Na comparing with other romantic films is that a lot of time we're together with animals, so there is even more feeling of warm and innocent. Especially the dating by the lakeside filming inside the water, it's so tiring, but it particularly left me deep impression with the dreamy and fairytale-like picture produced."
Jung Woo Sung: "The scene where I suddenly kissed Ji Na on the train. Not a mouth-to-mouth kissing, but a sudden short kiss. Under influence of basic instinct, Kang Chil "sneak kiss" under the situation of not knowing any mean and method."
– How is Han Ji Min in the eyes of Jung Woo Sung?
Jung Woo Sung: "Firstly she is a beauty. Good personality, may be it's because she is born from family that stays together with grandparents, so the soul of treating people includes the warmth. Of course the duration of 5 months can be said is not long, so the impression she left to me still need to continue to monitor to be known for sure… hehe! As an actress, she is a very potential actress. Not only acting, but the beauty she possessed seems to be even bigger advantage. Especially for project type of love and romance… And it's reported recently that author No Hee Kyung brought along familiar people in the surrounding to do charity. I saw the photos of activities where they stood in the middle of Myungdong street in the very cold weather to ask for donations with bare hands. Really applause for her."
– How about Jung Woo Sung in the eyes of Han Ji Min?
Han Ji Min: "In one sentence, he is a passionate and energetic actor. Even when after continuous days of filming, I have never seen him show tiredness on his face. Looking at him who works hard at every moment to transform as Kang Chil, I am very surprise."
– Is there any other things that left deep impression?
Han Ji Min: "The dog in the drama is actually a female. She prefers Kang Chil, very obedient to him. So she always made me jealous in heart. Haha!"
Jung Woo Sung: "Really eat a lot. If there is scene of eating, in order to match the character of Kang Chil, I will eat plentifully. I heard that it's now been labeled with the adjective of "eating drama." The drama series of eating, haha! And there is a lot of scenes with animals. Dog, rabbit, vulture, elephant, giraffe, lion and so on. Besides, crying scene also a lot."
via Ilgan Sports